If you are running away from your problems then you might want to stop, face your problem, find a nice solution and then start running for your health. This is the best way to live life and no one can convince us for any other way except for the people for whom running is not the best way to stay fit and healthy because of some medical conditions, for everyone else, run. Run with these best and most inspiring Running Quotes and Sayings.
Running is one of the best forms of cardio workout which helps to move almost every muscle in your body at high intensity, all at a time. Running is not only a great way to stay fit but also to lose those extra pounds. Plus if you ditch your treadmill and decide to run outside, on a beautiful morning or evening, amidst nature then it would not only benefit your physical health but also can uplift your mood.
In general, every physical workout is known to be a stress buster so if you are feeling a bit tensed, then put on your running shoes and go for a sprint. And for your running motivation, take a look at these Running Quotes and Sayings:
Inspirational Running Quotes
1. "Doesn't matter how fast you cross the finish line if you're running the wrong race." – Richie Norton
2. "Once you're beat mentally, you might as well not even go to the starting line." -Todd Williams
3. "The freedom of Cross Country is so primitive. It's woman vs. nature." – Lynn Jennings
4. "It's at the borders of pain and suffering that the men are separated from the boys." – Emil Zatopek
5. "The will to win means nothing without the will to prepare." – Juma Ikangaa
6. "A good laugh and a long run are the two best cures for anything." -Unknown
7. "Running is real and relatively simple… but it ain't easy." – Mark Will-Weber
8. "Running is my private time, my therapy, my religion." – Gail W. Kislevitz
9. "Don't fear moving slowly forward…fear standing still." – Kathleen Harris
10. "If you don't have answers to your problems after a four-hour run, you ain't getting them." – Christopher McDougall
11. "Life equals running and when we stop running maybe that's how we'll know life is finally finished." – Patrick Ness
12. "I'm not telling you it's going to be easy… I'm telling you it's going to be worth it." – Art Williams
13. "We run when we're scared, we run when we're ecstatic, we run away from our problems and run around for a good time." – Christopher McDougall
14. "Fast running isn't forced. You have to relax and let the run come out of you." – Desiree Linden
15. "Running is a thing worth doing not because of the future rewards it bestows, but because of how it feeds our bodies and minds and souls in the present." – Kevin Nelson
16. "Only those who risk going too far, can possibly find out how far one can go."- T.S. Elliot
17. "I hated every minute of training, but I said, "Don't quit. Suffer now and live the rest of your life as a champion." – Muhammad Ali
18. "Run when you can, walk if you have to, crawl if you must; just never give up." – Dean Karnazes
19. "Running is about finding your inner peace, and so is a life well lived." – Dean Karnazes
20. "There's not one body type that equates to success. Accept the body you have and be the best you can be with it." – Mary Cullen
21. "Get going … walk if you have to, but finish the damned race." – Ron Hill
22. "Runners are made when no one else is watching." – Unknown
23. "If you are losing faith in human nature, go out and watch a marathon." – Kathrine Switzer
24. "You would run much slower if you were dragging something behind you, like a knapsack or a sheriff." – Lemony Snicket
25. "The reason we race isn't so much to beat each other,… but to be with each other." – Christopher McDougall
26. "I've learned that it's what you do with the miles, rather than how many you've run" – Rod DeHaven
27. "Running is in my blood-the adrenaline flows before the races, the love/hate of butterflies in your stomach."-Marcus O'Sullivan
28.  "A lot of people run a race to see who's the fastest. I run to see who has the most guts." – Steve Prefontaine
29. "No matter how old I get, the race remains one of life's most rewarding experiences."-George Sheehan
30. "Run in the morning … before your brain figures out what your body is doing!" – Anonymous
31. "Run like hell and get the agony over with." – Clarence DeMar
32. "The real purpose of running isn't to win a race. It's to test the limits of the human heart." – Bill Bowerman
33. "The obsession with running is really an obsession with the potential for more and more life." – George Sheehan
34. "I started running to escape the memories that drinking couldn't cover up"- Dean Karnazes
35. "Running is alone time that lets my brain unspool the tangles that build up over days" – Bob Hneisen
25 Running Quotes For Motivation
36. "The man who moves a mountain begins by carrying away small stones." – Confucius
37. "I don't run to add days to my life, I run to add life to my days." – Ronald Rook
38. "In running, it doesn't matter whether you come in first, in the middle of the pack, or last. You can say, 'I have finished.' There is a lot of satisfaction in that." – Fred Lebow, New York City Marathon co-founder
39. "Running allows me to set my mind free. Nothing seems impossible. Nothing unattainable." – Kara Goucher
40. "Running is the greatest metaphor for life, because you get out of it what you put into it." – Oprah Winfrey
41. "I don't run to add days to my life, I run to add life to my days." – Ronald Rook
42. "Running has been my main form of exercise. I've been running five or six days a week. I love it." -Natalie Coughlin
43. "It started to become what I looked forward to most; it was the only time I got to be in my own head." – Rob Riggle
44. "We are what we repeatedly do. Excellence, then, is not an act, but a habit." – Aristotle
45. "Every marathon I ran, I knew I had a faster one in me." – Dick Beardsley
46. "Running is the basis of all the training that I do…it's like an escape." – Ellie Goulding
47. "Fast running isn't forced. You have to relax and let the run come out of you." – Desiree Linden
48. "I've given myself a thousand reasons to keep running, but it always comes back to self-satisfaction." – Steve Prefontaine
49. "I'll be happy if running and I can grow old together." – Haruki Murakami
50. "If it doesn't challenge you, it won't change you." – Fred DeVito
51. "It's not so much that I began to run, but that I continued." – Hal Higdon
52. "Go fast enough to get there, but slow enough to see." – Jimmy Buffett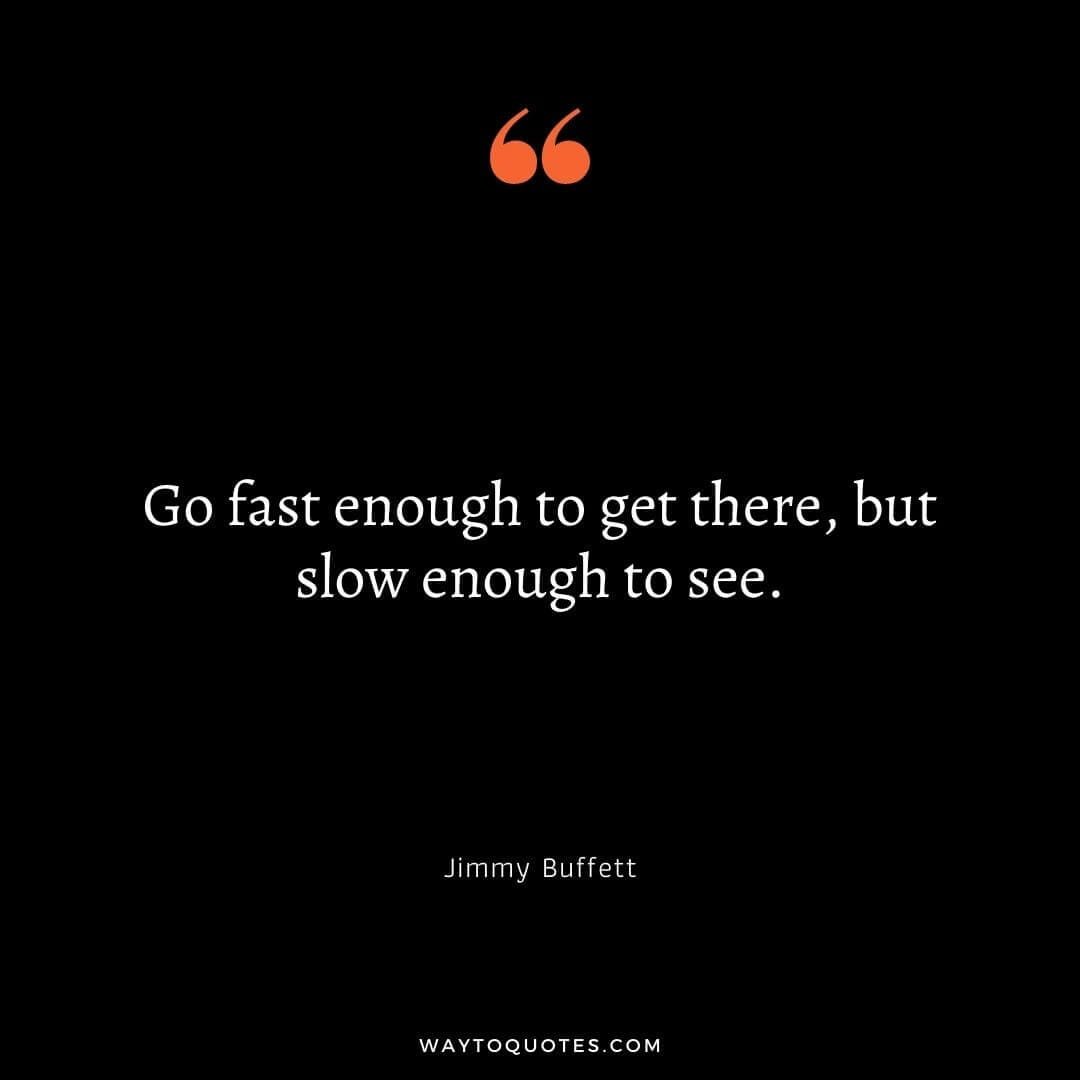 53. "My feeling is that any day I am too busy to run is a day that I am too busy." – John Bryant
54. "You have a choice. You can throw in the towel, or you can use it to wipe the sweat off of your face." – Gatorade
55. "Runners don't quit. We fade; we "hit the wall"; we're sometimes reduced to a walk. But we keep on."- Amby Burfoot
56. "The pain of running relieves the pain of living." – Jacqueline Simon Gunn
57. "The miracle isn't that I finished. The miracle is that I had the courage to start." – John Bingham
58. "If you want to become the best runner you can be, start now. Don't spend the rest of your life wondering if you can do it." – Priscialla Welch
59. "There are clubs you can't belong to, neighbors you can't live in, schools you can't get into, but the roads are always open." – NIKE
60. "He taught me to run high on my toes. I will always remember his words: run proud & remember you are alive."- Brian Andreas
Top 10 Short Inspirational Running Quotes
61. "Now I really enjoy running," – Bear Grylls
62. "Running is therapy anyone can afford."- Toni Sorenson
63. "Your body is made to move so move it."- Toni Sorenson
64. "Pain is inevitable. Suffering is optional." – Haruki Murakami
65. "I always run without music. – Christy Turlington
66. "Good things come slow, especially in distance running." – Bill Dellinger
67. "One run can change your day, many runs can change your life." – Unknown
68. "Someone who is busier than you is running right now." – Nike
69. "To me, sweat is workout bliss." – Brooke Burke-Charvet
70. "You must do the thing you think you cannot do."- Eleanor Roosevelt
20 Funny Quotes About Running
71. "Running a marathon is not a question of whether it will be painful, but when it will be painful. It does help to have a sense of humor, but I'm also respectful of the race." – Will Ferrell
72. "Good things come slow – especially in distance running." – Bill Dellinger
73. "I like trails more than roads. I've jumped over my share of rattlesnakes. I've seen mountain lions, coyotes, bobcats, skunks, hawks." – Reggie Miller
74. "How do you know if someone ran a marathon? Don't worry, they'll tell you." – Jimmy Fallon
75. "It's an acquired skill, being able to discuss your love life, children, and friends, all while you're running! But we have mastered it." – Reese Witherspoon
76. "Most people run a race to see who is fastest. I run a race to see who has the most guts."  – Steve Prefontaine
77. "There is magic in misery. Just ask any runner." – Dean Karnazes
78. "Run like hell and get the agony over with." – Clarence DeMar
79. "Step one to running a marathon: You run. There is no step two." – Barney Stinson
80. "Whoever established the high road and how high it should be should be fired." – Sandra Bullock
81. "The trouble with jogging is that, by the time you realize you're not in shape for it, it's too far to walk back." – Franklin P. Jones
82. "My doctor told me that jogging could add years to my life. I think he was right. I feel ten years older already." – Milton Berle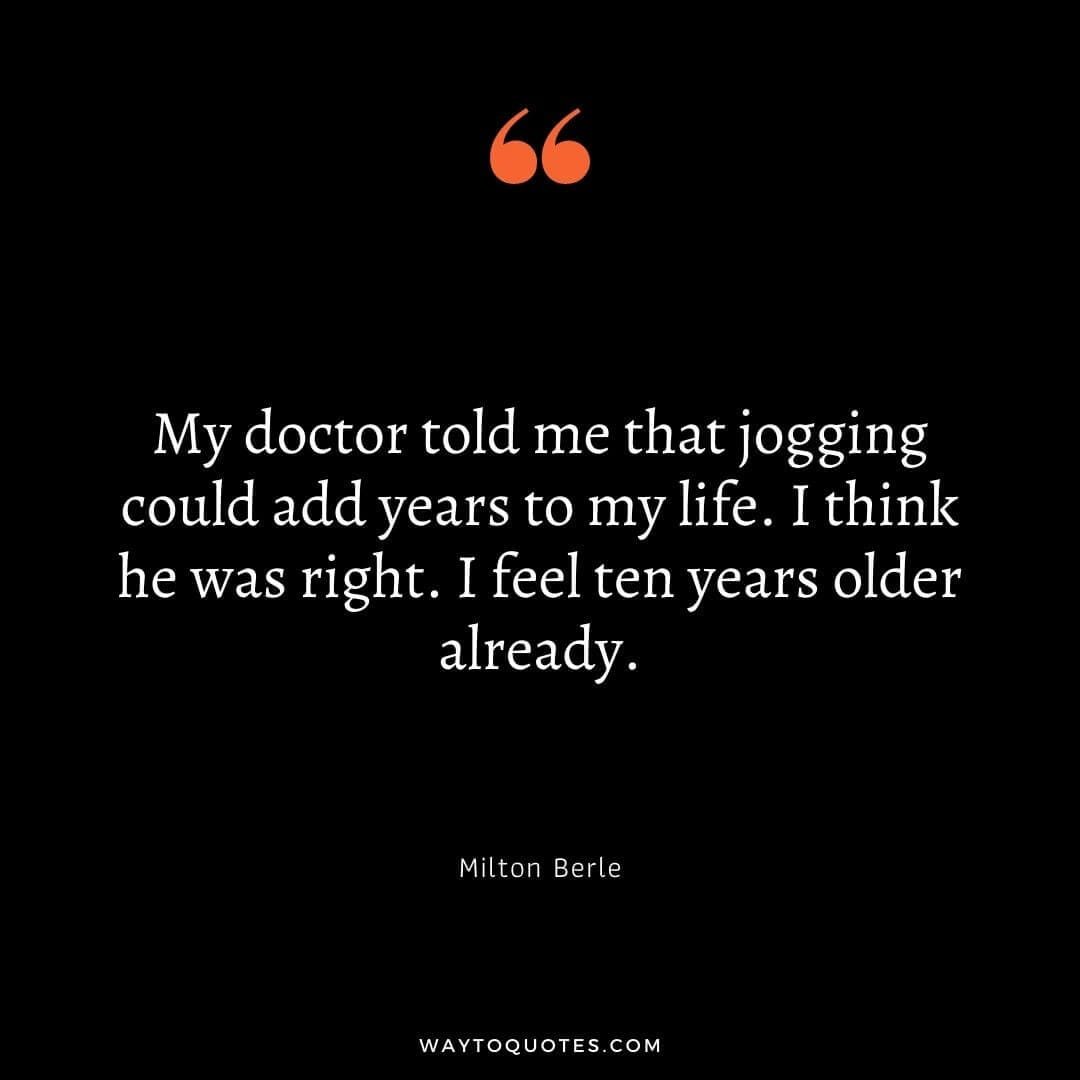 83. "We can't all be heroes because someone has to sit on the curb and clap as they go by." – Will Rogers
84. "I go running when I have to. When the ice cream truck is doing sixty." – Wendy Liebman
85. "Coming back to running after a few weeks off is really tough. It's humbling. Nothing wrong with a large dose of humility." – Davina McCall
86. "I love running cross country. On a track, I feel like a hamster." – Robin Williams
87. "I go for a three-mile run every morning," – Victoria Beckham
88. "Jogging is very beneficial. It's good for your legs and your feet. It's also very good for the ground. It makes it feel needed." – Charles M. Schultz
89. "Don't be a jogger, they're the one's who find dead bodies." – Amanda Brooks
90. "If you still look cute after working out, you didn't go hard enough." – Unknown
Conclusion
Our body is a temple and this temple needs to stay fit so that you can enjoy and live your life to the fullest. So do what you can to stay healthy and fit, eat right, workout, sleep well and drink a lot of water. And we will be right back after our mini run in the nearby park, till then, have a great time.
Also read:
Follow Me on: