Universally, Fridays might be the favourite thing of almost every working person or a student, until and unless they have a new crush or a lover in their office or school who lives far away from them. Friday brings the weekend with itself and weekend means break and break means party for some people and snuggling in bed for others and they love it. So let us welcome every Friday with these cool Friday Quotes and Sayings and enjoy the mini-vacation that is not always away from home.
In some ways, Friday is actually better then the off days itself because when you are at work on a Friday, you have a whole weekend to plan and look forward to, it has not even arrived. On the other hand on Saturdays and Sundays, you can actually feel the weekend slipping away moment after moment and all you can think about is the next Friday.
We feel you and we get you and even we are waiting for the sweet Friday to arrive. So let us wait together with these Friday Quotes and Sayings:
Friday Quotes
1. "Friday's a free day. A woman's day." – Neil Gaiman
2.  "Weekends are life's gift to those who hate their jobs." – Mokokoma Mokhonoana
3. "Making food is a wonderful way to spend a Friday night." – Chrissy Teigen
4. "Weekends welcome warriors for social fun that starts on Friday." – David Chiles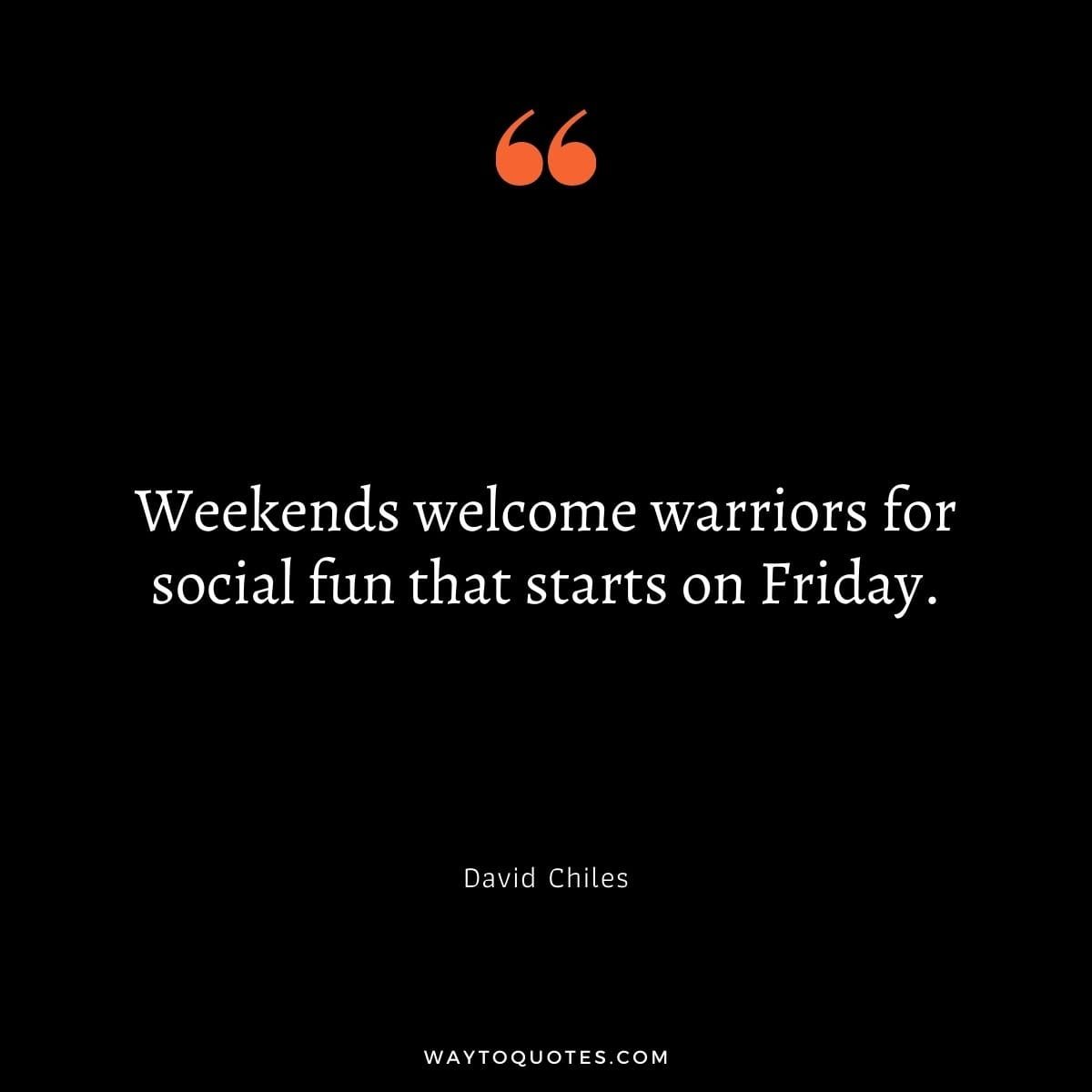 5. "I know every day is a gift but where are the receipts for Mondays? I want to return it for another Friday." –Unknown
6. "I added some Friday to your coffee. You're welcome." – Unknown
7. "Your mindset has a direct impact on how you perform in life as well as the quality of the results you get." – Ian Wallace Harper
8. "The only time you fail is when you fall down and stay down." – Stephen Richards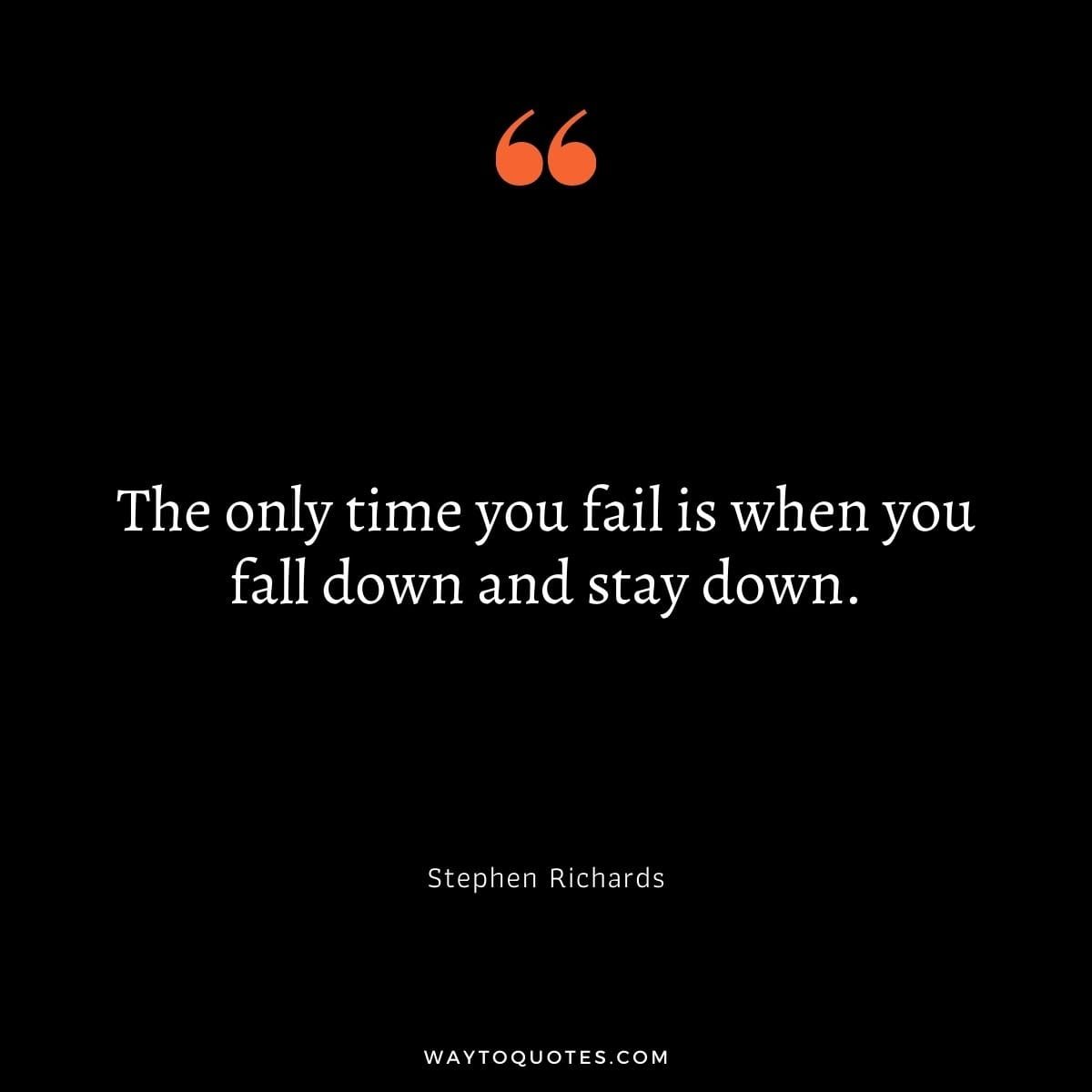 9. "If you give up on your dreams, what's left?" – Jim Carrey
10. "The first step is you have to say that you can." – Will Smith
11. "You can, you should, and if you're brave enough to start, you will." – Stephen King
12. "The best is yet to be." – Robert Browning
13. "Keep your face to the sunshine and you cannot see a shadow." – Helen Keller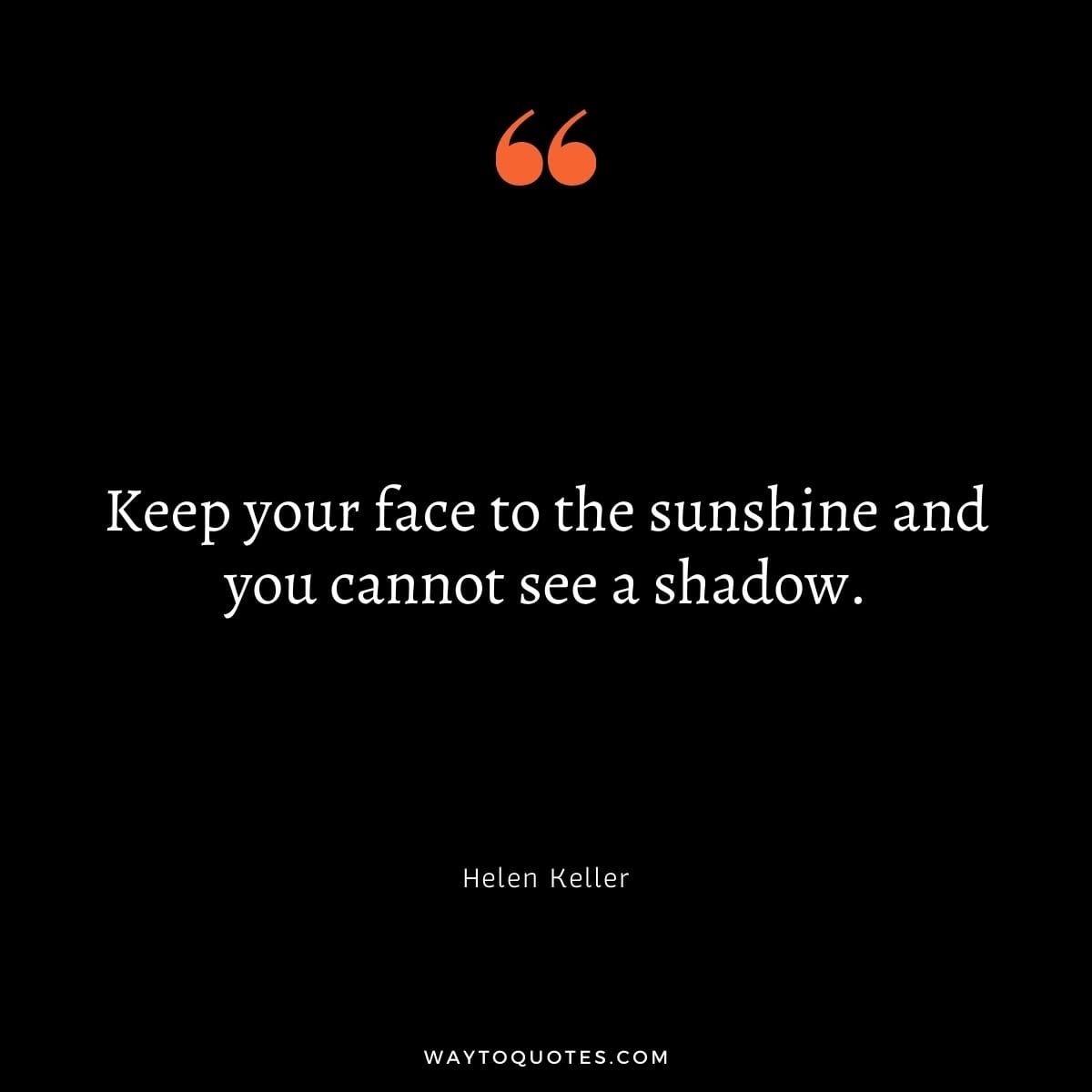 14. "Every day may not be good… but there's something good in every day."- Alice Morse Earle
15. "Friday called. She's on her way and she's bringing the wine." – Unknown
16. "Who cares about Thursday's happy hour when Friday is upon us?" – Unknown
17. "Friday is a day to finish your goals for the week. It is a day to celebrate that which you set out to accomplish at the beginning of the week. Well done." – Byron Pulsifer
18. "Friday the 13th is still better than Monday the whatever." – Unknown
19. "Not for nothing is their motto TGIF – 'Thank God It's Friday.' They live for the weekends, when they can go do what they really want to do." – Richard Nelson Bolles
20. "Friday afternoon feels like Heaven." – El Fuego
21. "Follow your hopes and not your fears." ― Jody Bower
22. "There is no way to happiness – happiness is the way." ― Thich Nhat Hanh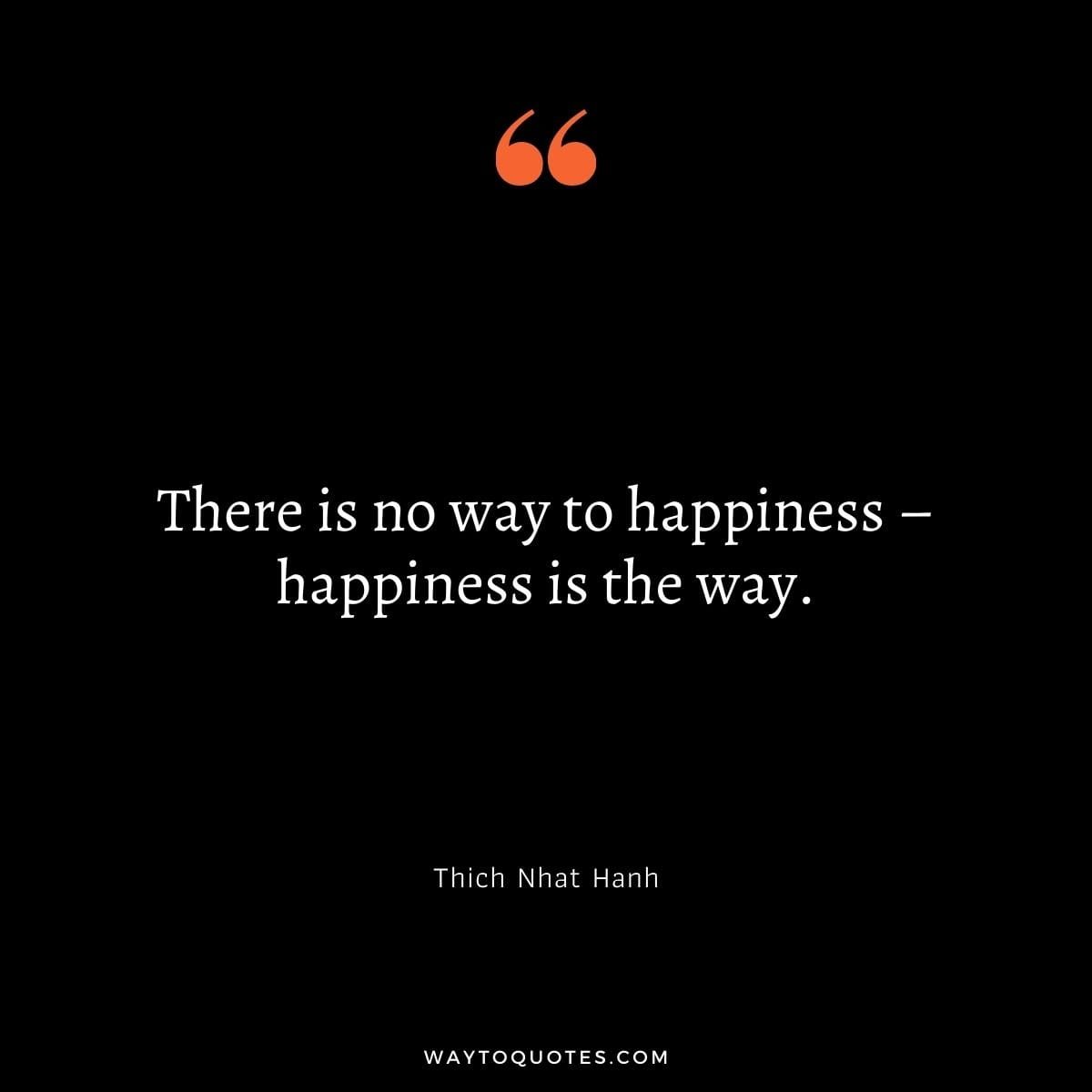 23. "Live every day as if it were going to be your last; for one day you're sure to be right." ― Harry Morant
24. "And in the end, it's not the years in your life that count. It's the life in your years." ― Abraham Lincoln
25. "I enjoy life when things are happening. I don't care if it's good things or bad things. That means you're alive." ― Joan Rivers
26. "Employers are at their happiest on Mondays. Employees are at their happiest on Fridays." – Mokokoma Mokhonoana
27. "Music always sounds better on Friday." – Lou Brutus
28. "Hands up if you're ready to do something you'll regret this weekend. Go forth! You have my blessing." – Florence Welch
29. "It's always difficult to keep Fridays confined within themselves… they tend to spill over…"- Parag Tipnis
Happy Friday Quotes
30. "Dear Friday, I am ready for all of the adventures that the weekend promises." – Unknown
31. "Why is Monday so far away from Friday but Friday is so close to Monday?" – Unknown
32. "Life is not a problem to be solved, but a reality to be experienced." —Soren Kierkegaard
33. "I know every day is a gift, but where's the receipt for Mondays? I want to exchange it for another Friday." – Unknown
34. "You're only given a little spark of madness. You mustn't lose it." —Robin Williams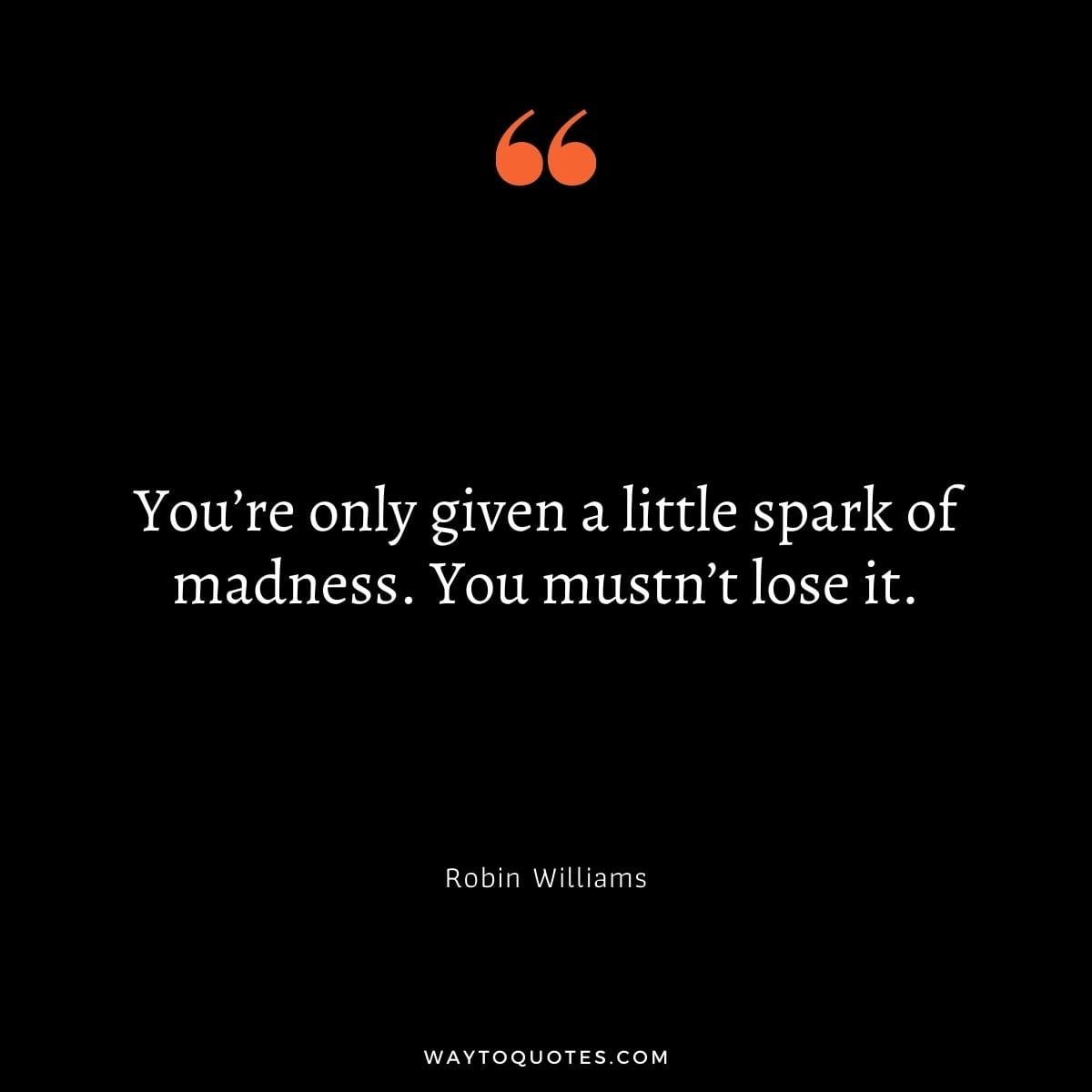 35. "Happiness is not something ready-made. It comes from your own actions." – Dalai Lama
36. "It's Friday night. Time to be a hero and rescue some wine trapped in a bottle." —Anonymous
37. "Thursday doesn't even count as a day, it's just the thing that's blocking Friday." – Unknown
38. "Friday is about hanging out with friends, having fun." – Rebecca Black
39. "If you see me on Friday, you'll see different material on Saturday night." – Kathy Griffin
40. "People wait all week for Friday, all year for summer, all life for happiness." – Raimonda.B
41. "Every Friday, I like to high five myself for getting through another week on little more than caffeine, will power, and inappropriate humor." – Nanea Hoffman
42. "There's just one legitimate synonym for Friday: Boom Shakalaka." – Unknown
43. "Life is good especially on a Friday." – Unknown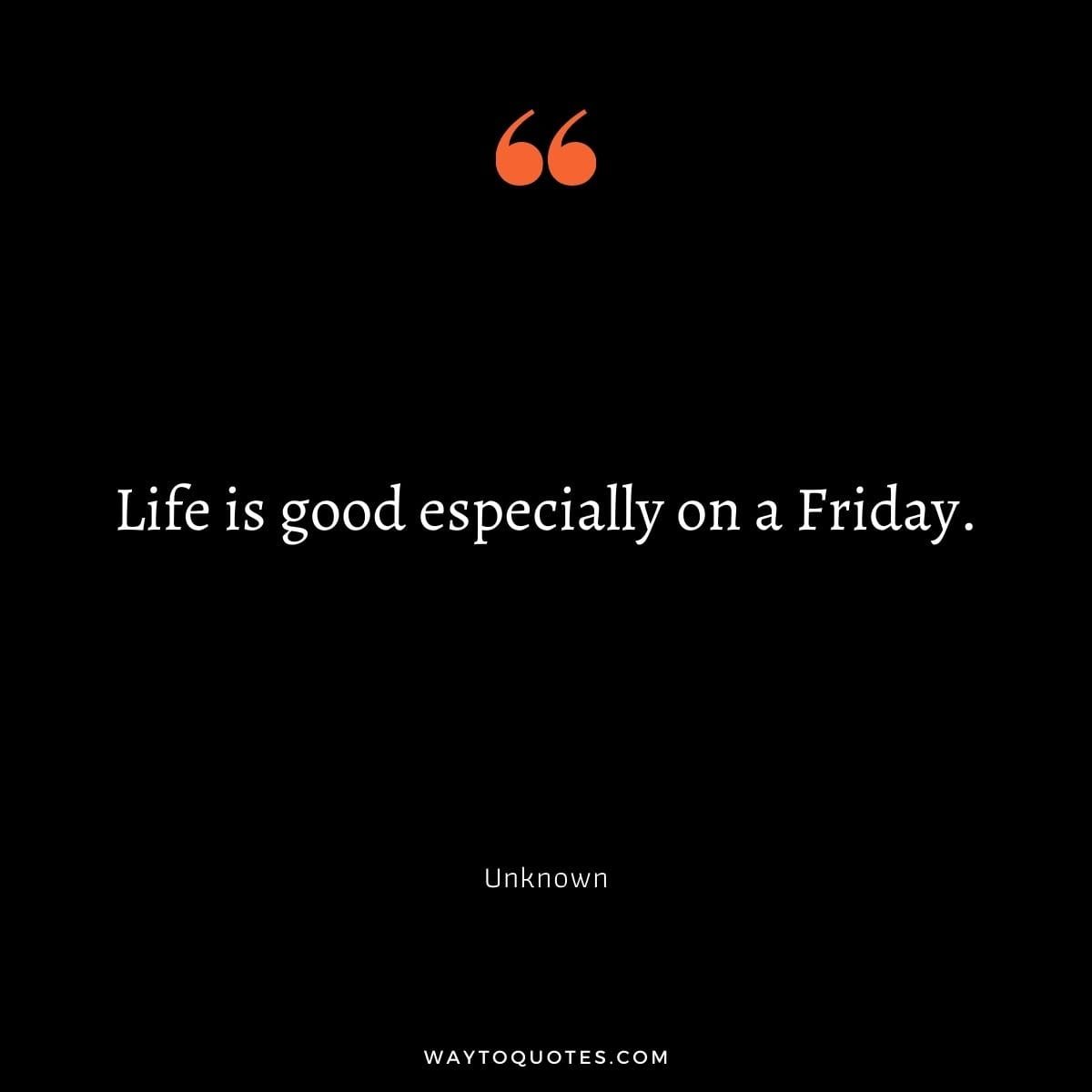 44. "This Friday, finish your work and be done. Look forward to the weekend and have some fun!" – Kate Summers
45. "If Friday had a face, I would kiss it." – Unknown
46. "Don't wait all week for Friday so you can enjoy life. Find a job you love so you can enjoy every day of the week." – Catherine Pulsifer
47. "Did you just say Friday?" – Unknown
48. "It's Friday and I'm thirsty." – Unknown
49. "It's Friday morning mankind! Good vibe, don't frown and let the monster see you smile!" – Napz Cherub Pellazo
50. "Make a Friday a day to celebrate work well done that you can be proud of knowing that you just didn't put in time to the next paycheck." – Byron Pulsifer
Friday Motivational Quotes
51. "I don't care if Monday's blue, Tuesday's gray and Wednesday too. Thursday I don't care about you. It's Friday I'm in love with."- Unknown
52.  "Youth is like a long weekend on Friday night. Middle age is like a long weekend on Monday afternoon." – Richard Nelson Bolles
53. "Oh! It's Friday again. Share the love that was missing during the week. In a worthy moment of peace and bliss." – S. O'Sade
54. "Fridays are the hardest in some ways: you're so close to freedom." – Lauren Oliver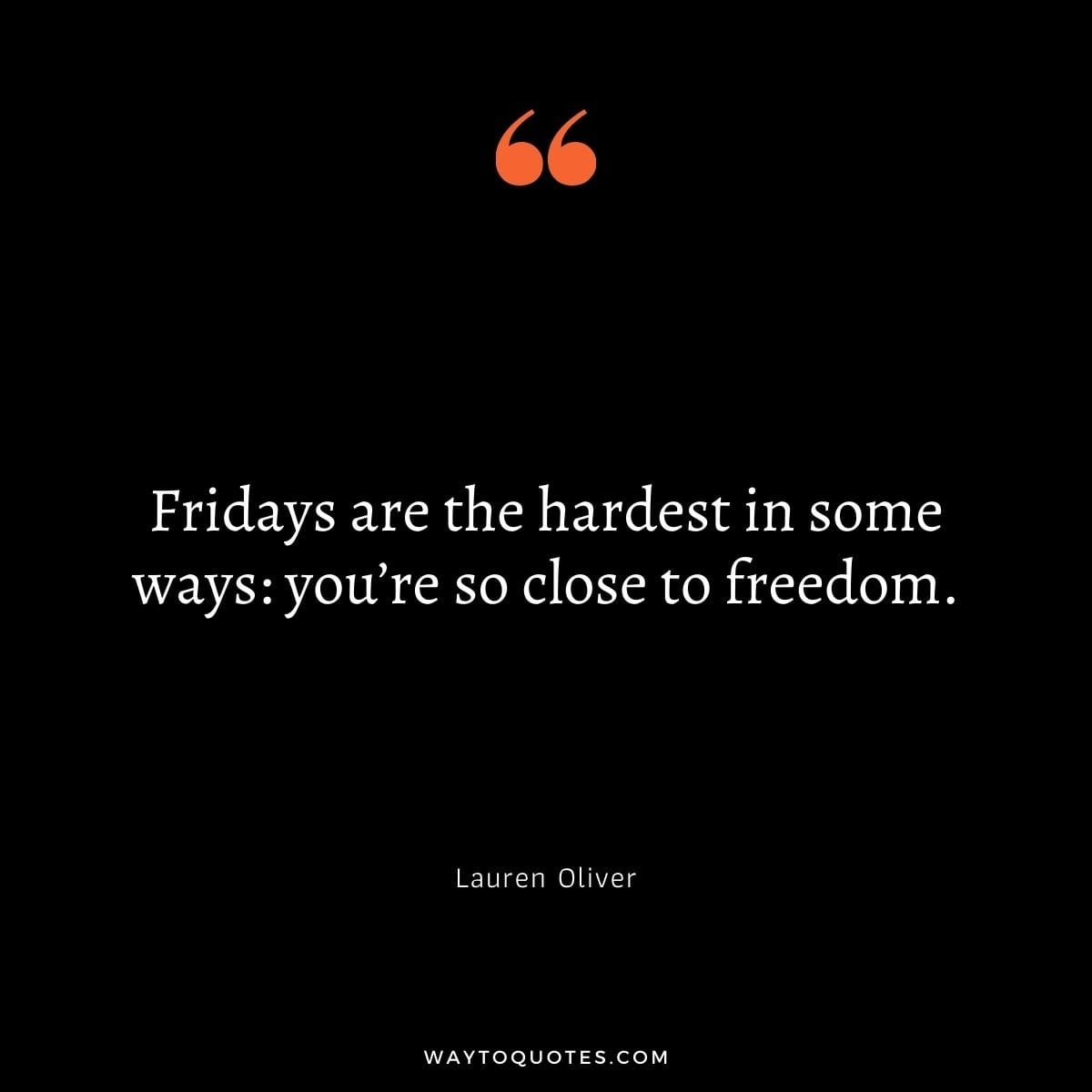 55. "Cozy+smell of pancakes-alarm clock=weekend" – Amy Krouse Rosentha
56. "Friday sees more smiles than any other day of the workweek!" – Kate Summers
57. "Friday. The golden child of the weekdays. The superhero of the workweek. The welcome wagon to the weekend." – Unknown
58. "Associate with people who are likely to improve you." – Seneca
59. "No one is perfect – that's why pencils have erasers." – Wolfgang Riebe
60. "If my boss knew how unproductive I am on Fridays, he wouldn't want me here either."- James Johnson
61. "If you want light to come into your life, you need to stand where it is shining." – Finley
62. "Success is a bright sun that obscures and makes ridiculously unimportant all the little shadowy flecks of failure." – Harold Helfer
63. "Winning doesn't always mean being first. Winning means you're doing better than you've done before." – Bonnie Blair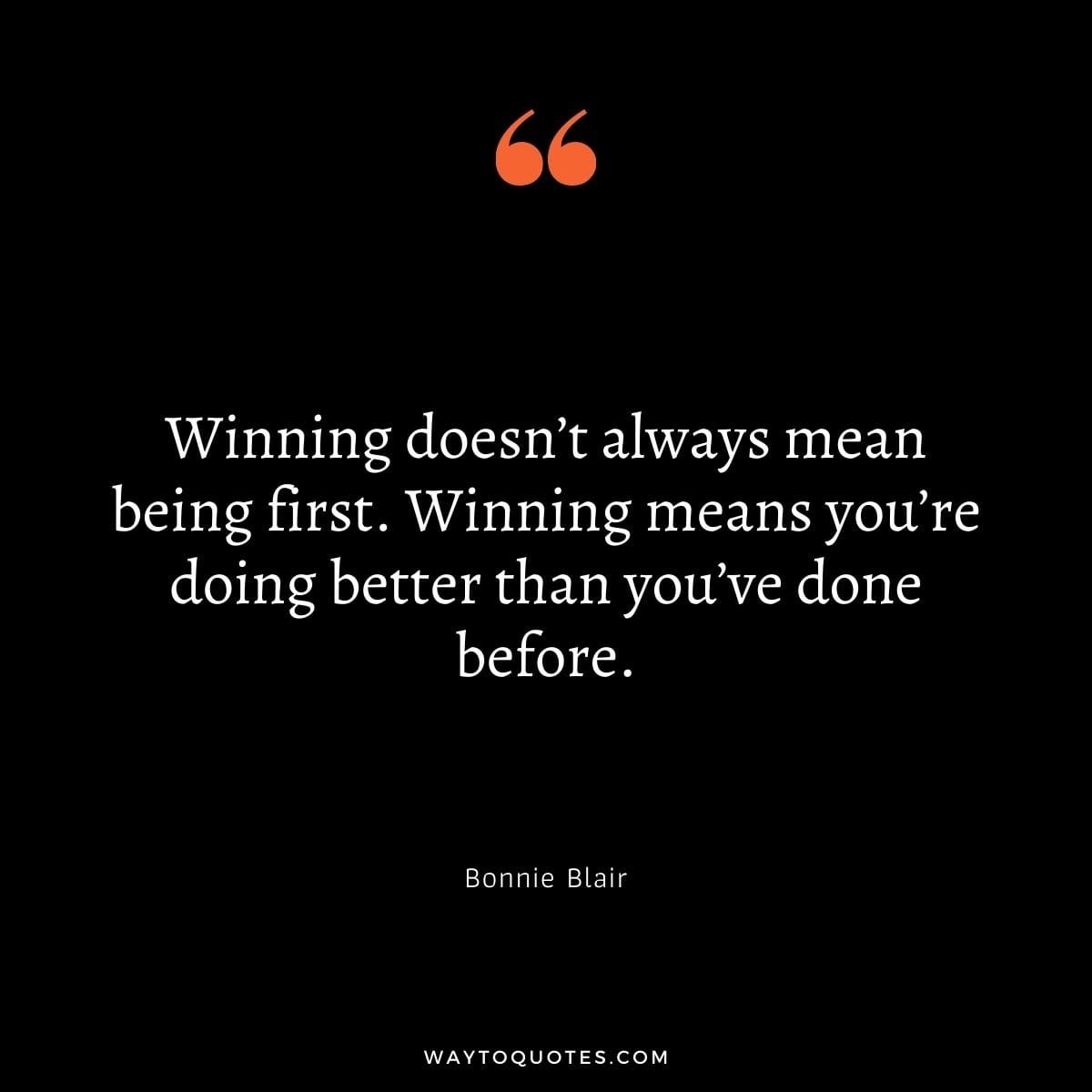 64. "Live life to the fullest and focus on the positive." – Matt Cameron
65. "Positivity always wins…Always." – Gary Vaynerchuk
66. "How high you fly is derived from how big you think." – Robin Sharma
Funny Friday Quotes
67. "I always give 100% at work: 13% Monday, 22% Tuesday, 26% Wednesday, 35% Thursday, 4% Friday." —Unknown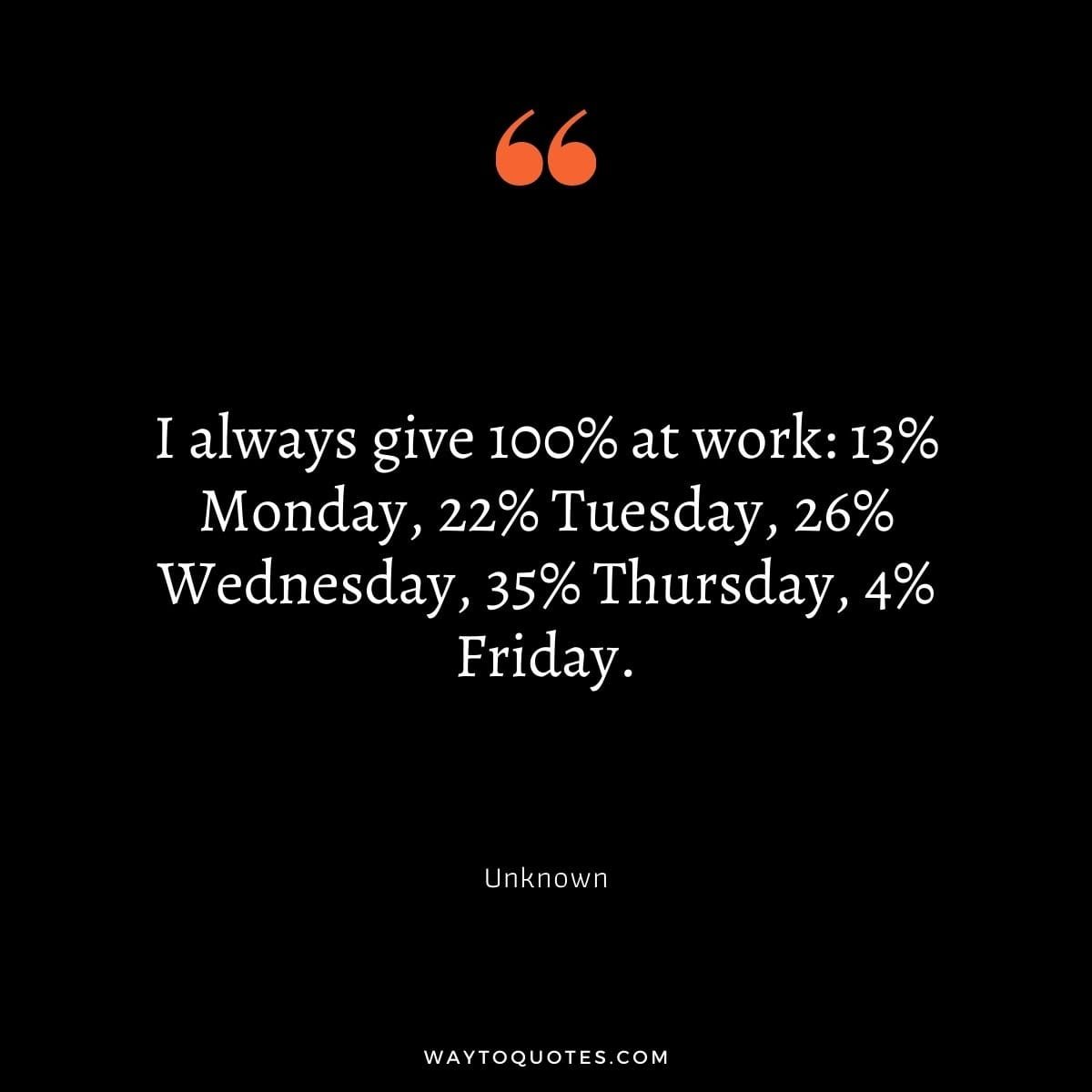 68. "Take a drink—Friday is the shit." — Tomsten
69. "Raise your glass in the air. It's a Friday." — SprayEagle SP
70. "Happy Friday—Became reality again." — Emility
71. "Aloha Friday," – Unknown
72. I don't work on Fridays. I make appearances.
73. "But it's Friday" is a valid excuse for almost anything today."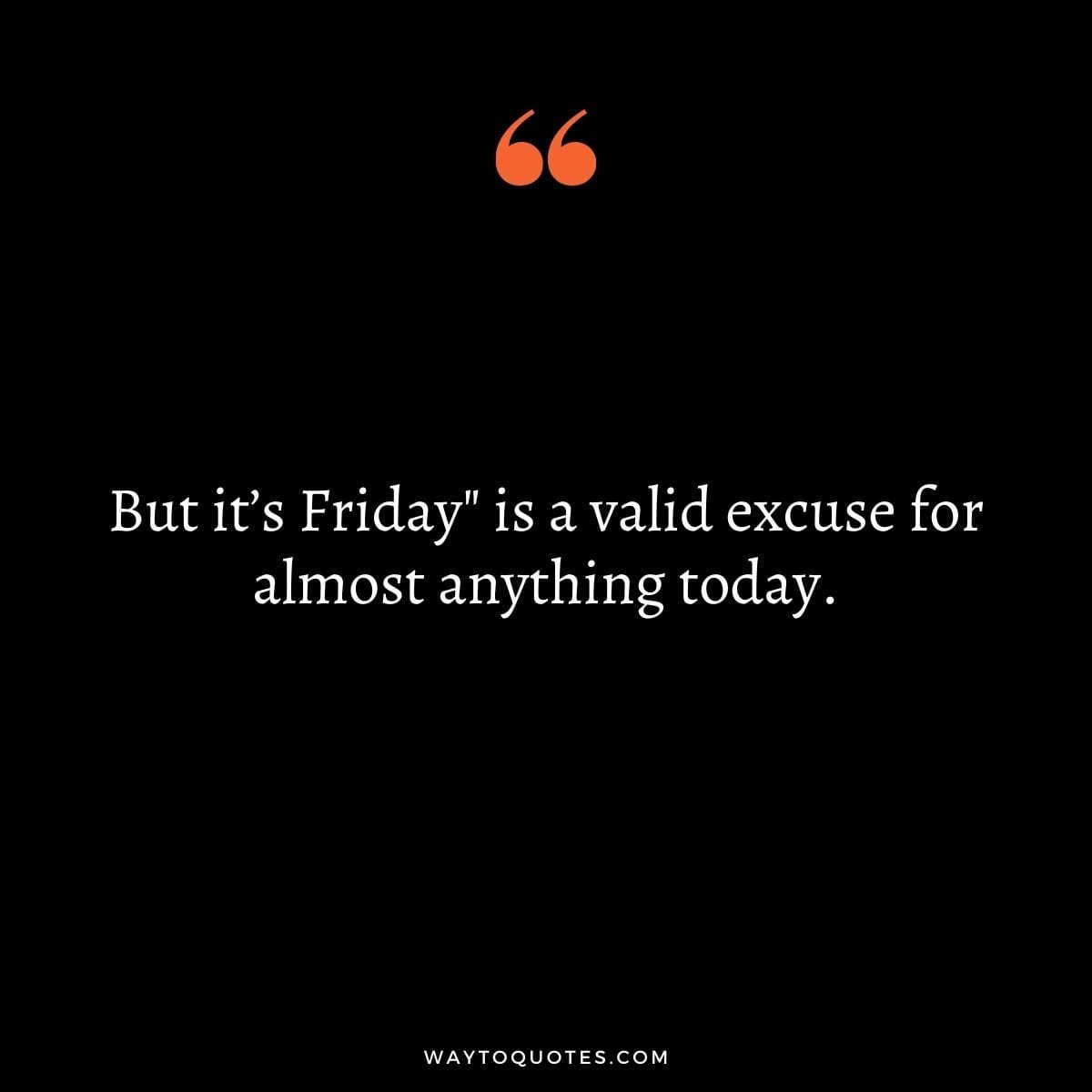 74. Work starts on Monday. Life begins on Friday.
75. Dear week, I am so over you. I am leaving you for your best friend – weekend.
76. 10:00 am on Friday…all you can think about is beer.
77. You deserve a round of applause cause you make it to Friday alive.
78. "Friday? Is that you? I can't believe how long it took for you to come back." – Unknown
79. "Go as far as you can see; when you get there you'll see further." – Thomas Carlyle
80. "At the end of each day write down on a calendar the best thing that happened to you that day." – Brenda Shoshanna
81. "Fri-nally!" – Unknown
82. "Can we take a lunch break on Friday and come back the next Friday?" – Unknown
83. "Happy Monday! Or as I like to think of it, pre-pre-pre-pre-Friday!" – Anonymous
84. "If you've got some news that you don't want to get noticed, put it out Friday afternoon." – David Gergen
85. "Without Friday, the weekend would be half over already." – Anthony T. Hinks
Conclusion
Weekend after a long week of work can be like the only fresh air you will ever need in your life. But make sure to include some self-care, good food, friends and family in your weekends and you will see how it makes everything even better. So buck up and get ready to hit that party or watch that movie that you have wanted to see for so long. Enjoy.
Also read:
Follow Me on: