Prayer Quotes: The one thing that keeps each one of us going and that keeps our world going is faith. Faith in love, faith in good times, faith in fairness, faith in humanity, and faith in a supreme power that is looking upon all of us with a just and affectionate glance. That supreme power is someone that we turn to when there is no other way in our sight. And the way we take to reach that savior of ours is through prayers. So today we have brought the best Prayer Quotes and Sayings that will help you be closer to the energy that gives you all the positivity.
How does Prayer help you?
The moment we fold our hands and close our eyes in prayer, our mind, heart, and soul somehow know that there is a way to mend things, to be happy, and to be peaceful. No matter what we are going through, everything can be fine if we believe. This is the time we finally leave everything on our faith. We believe that our prayers would be heard. We hope we would be heard soon. And this faith, belief, and hope are what keep us going.
So carry your prayers in your heart and keep going with these peaceful Prayer Quotes and Sayings that will help you get through every thick and thin:
Prayer Quotes
1. "Today as you pray, remember that God's timing is often different than ours." – Christopher Greer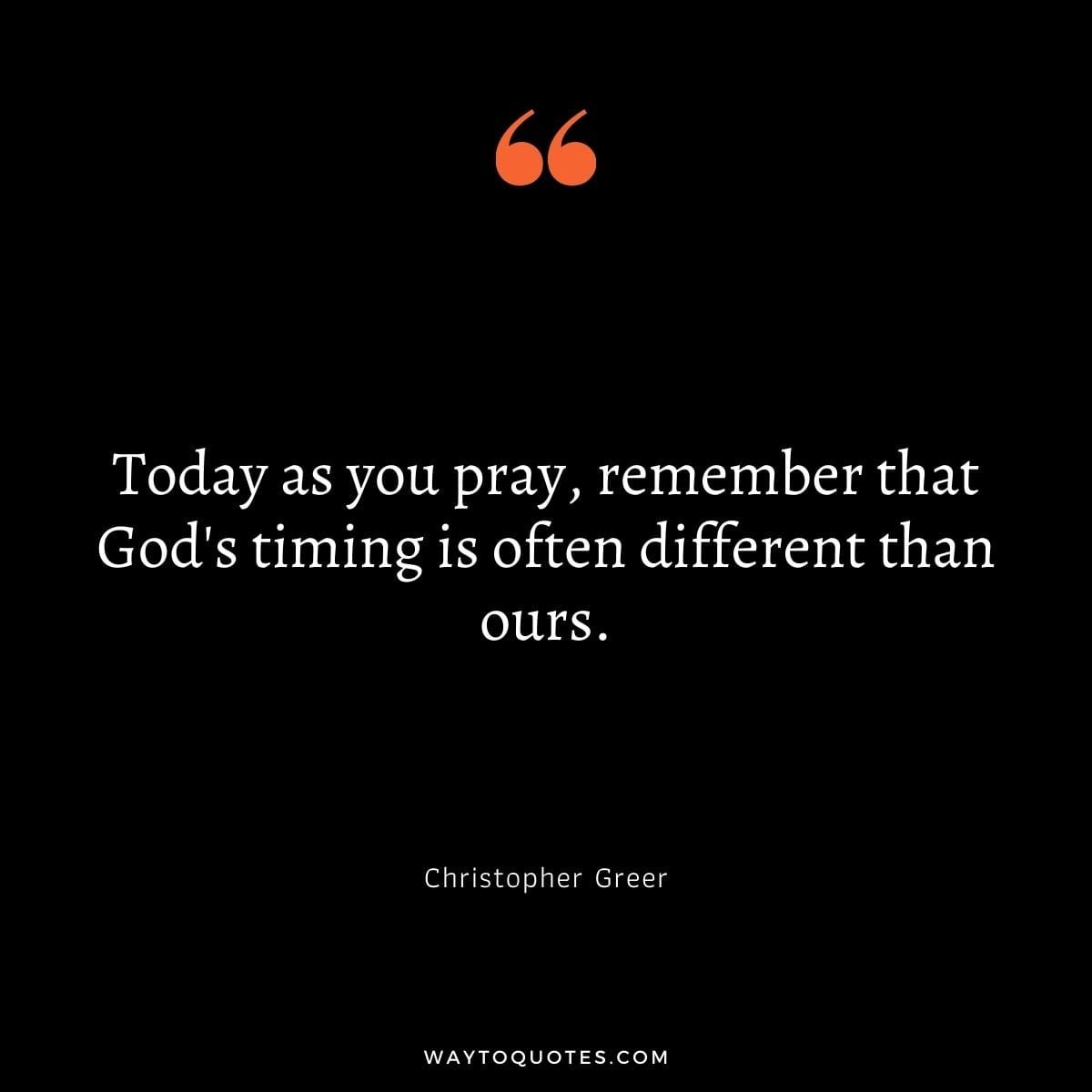 2. "I remember my mother's prayers and they have always followed me. They have clung to me all my life." –Abraham Lincoln
3. "We use prayer when we need something, but praying is also for giving thanks for all your blessings." -Catherine Pulsifer
4. "Our prayers are sometimes answered without us realizing or, in ways that we did not ask for but always remember God's plan is better than ours." – Catherine Pulsifer
5. "Prayer is a shield to the soul, a sacrifice to God, and a scourge for Satan." –Bunyan
6. "Prayer exercises your willpower and gives God authority to work in your life." –Max Lucado
7. "Prayer is the most important thing you can do as a father." –Derek Polen
8. "Prayer is one of the greatest assets that a Christian could possess, but sometimes it seems to be a real challenge to make it a full part of our devotional life." –Brian Johnston
9. "Prayer is essential to your relationship with Jesus. Talk to Him through prayer." –Britt Gillette
10. "Meditation and prayer are one of the most efficient tools we can use to inspire our world." –Frank Arrigazzi
11. "Prayer is a conversation between you and God. Don't be afraid to talk to him. Don't worry about what you will say. Speak from your heart." –Nicky Gumbel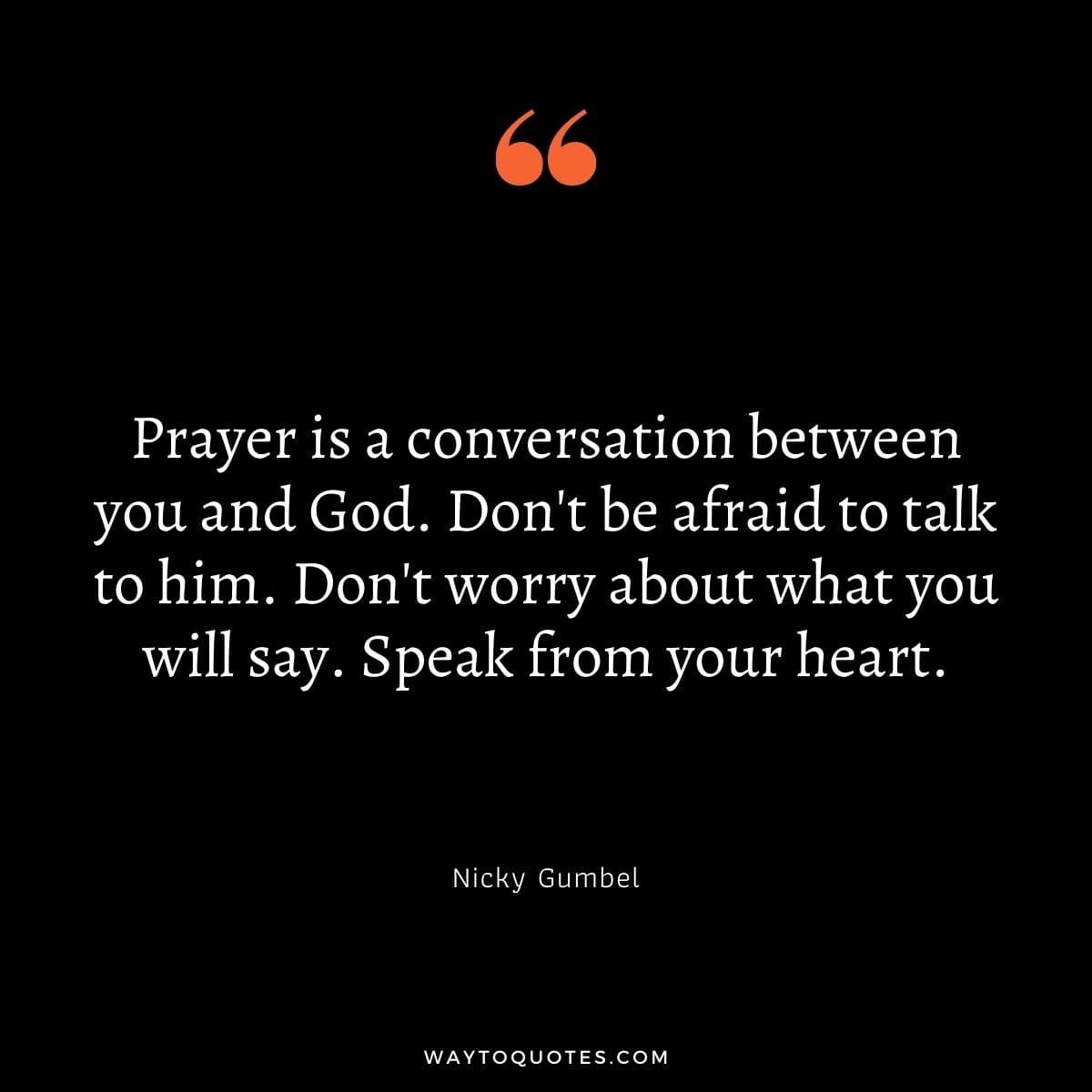 12. "All I know is that when I pray, coincidences happen; and when I don't pray, they don't happen." –Dan Hayes
13. "Prayer is the pillow of religion."
14. "Pray as though no work would help, and work as though no prayer would help." –Proverb
15. "God does not listen to the prayers of the proud." – Hebrew
16. "Pray that God would guide your search for Jesus this Christmas, and that He would open your heart to the revelation of His truth." –Christine Trevino
17. "Prayer is talking to God. Meditation is listening to God." – C. Ingraham Brown
18. "Let your decisions be comfortable and aligned with God. When there are still doubts, pray more until you find peace with the matter." – Carol Nkambule
19. "Daily prayers to God should never be seen as a task. It should be a necessity in our life just as air is a necessity for us in order to breathe and live." –Oliver Powell
20. "I pray that you will see the value of praying from scripture and will begin to create your own scriptural prayers." –Kim Trujillo
21. "When you fast and pray you are breaking through into the glory realm at an accelerated pace." –David Herzog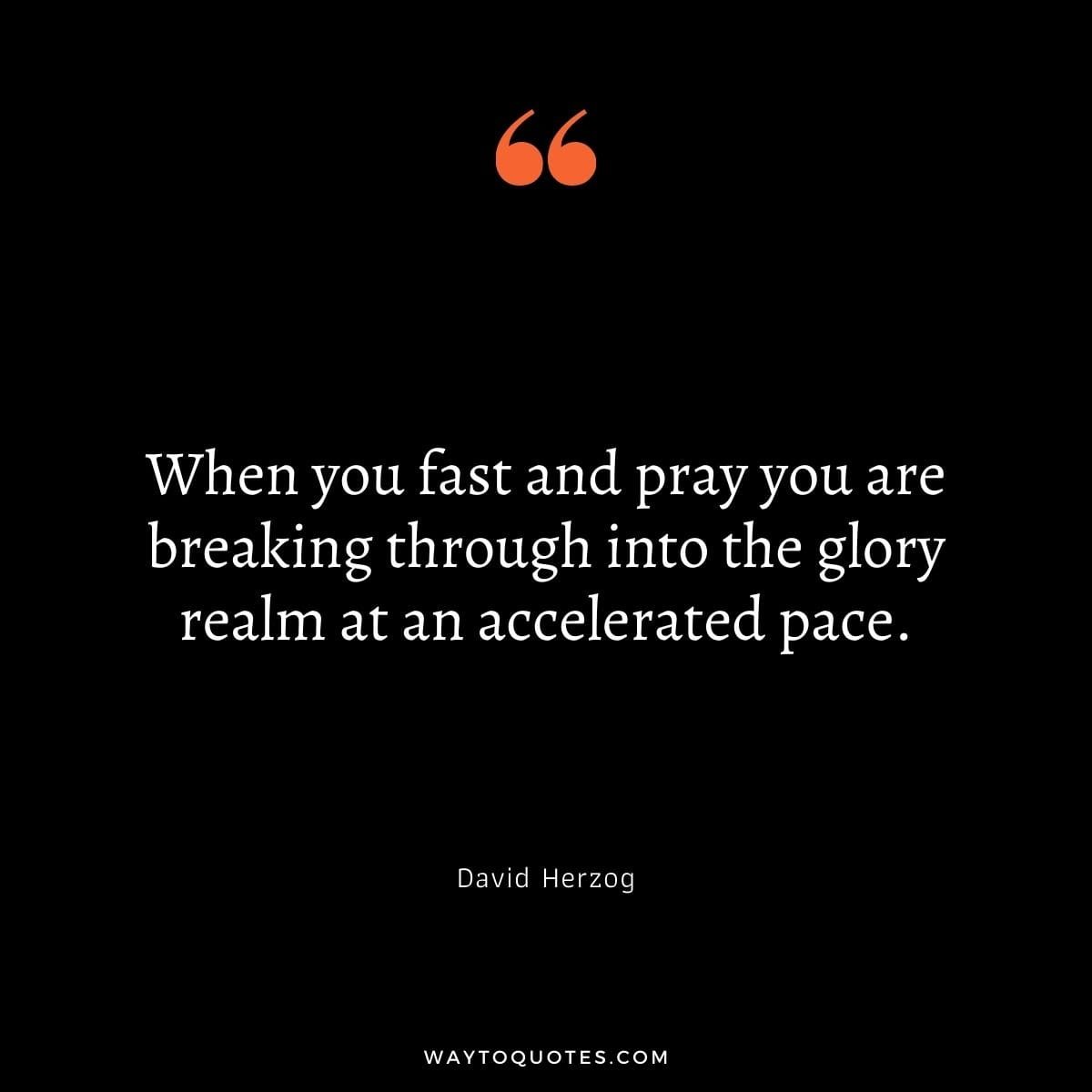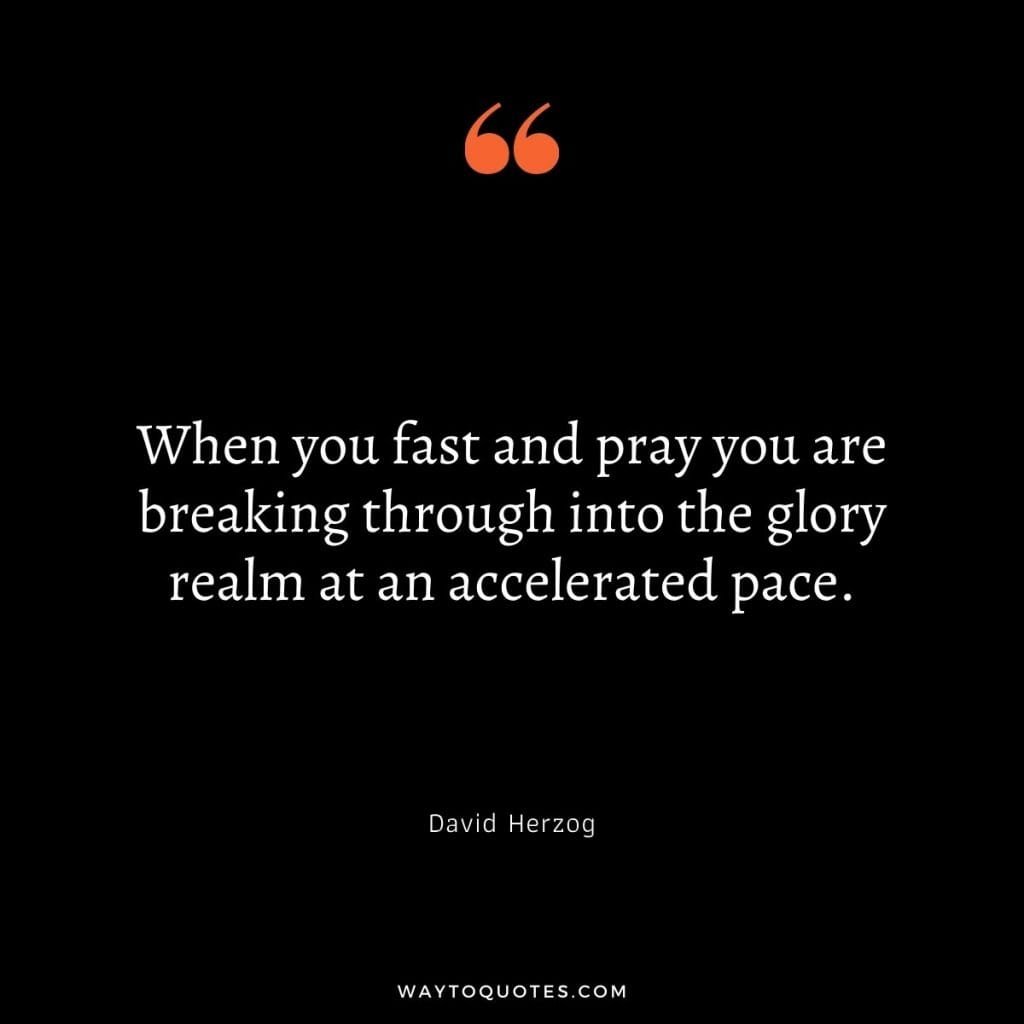 22. "Prayer is something that you may engage in more than you think. It can give us courage and hope to face life's challenges." – Byron Pulsifer
23. "Our prayers may be awkward. Our attempts may be feeble. But since the power of prayer is in the one who hears it and not in the one who says it, our prayers do make a difference." – Max Lucado
24. "True prayer is a way of life, not just for use in cases of emergency. Make it a habit, and when the need arises you will be in practice." – Billy Graham
25. "Regardless of where you are or what country you are in, God knows your prayers." -D. Duane Engler
26. "When we are spending regular time in our Bible and diligently committed to prayer, no attack can stand against our minds and we can resist the temptations." – Adam Cumpston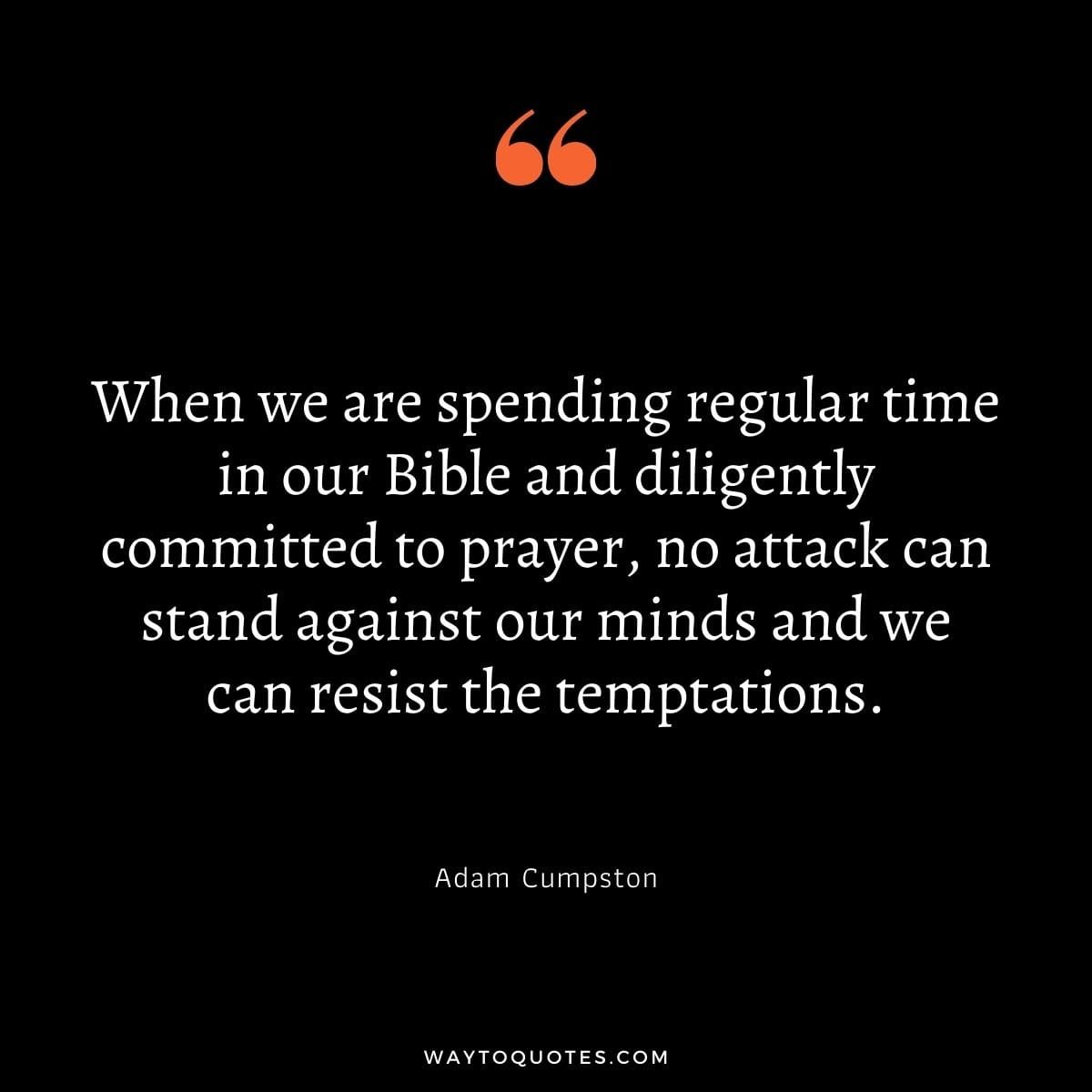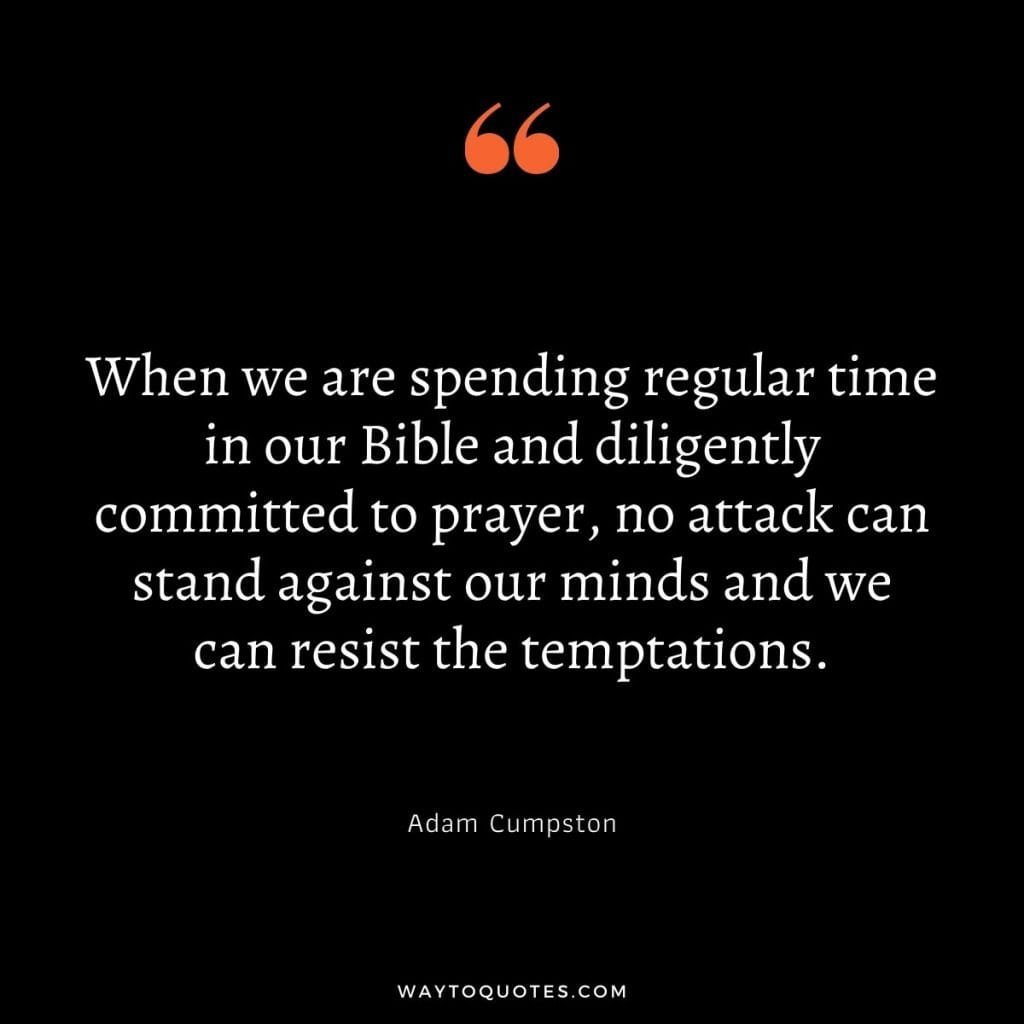 27. "Prayers are personal. No third party can ever express what's on your heart or write in your unique lingo or dialect, but when it seems the whole world is attempting to make this holy Advent and Christmastide one huge commercial, with very little spiritual content, don't join in – talk to your heavenly Father about it." – Paul M Miller
28. "Yet prayer alone will not avail. Faith and works must always be associated." – John Harvey Kellogg
29. "The ideal for Christians is to pray without ceasing. We should study and meditate in God's Word. We should remain in a constant state of fellowship with the Heavenly Father." – Greg Winfield
30. "Our prayers are strengthened when we know God is listening and that He is faithful." – Dr. David Jeremiah
31. "Households that have lost loved ones, or suffered health or financial difficulties, might avoid mentioning such in Thanksgiving grace. But if prayer is going to be authentic, such things need to be mentioned." – Rev. Richard Clancy
32. "God can handle your doubt, anger, fear, grief, confusion, and questions. You can bring everything to him in prayer." – Rick Warren
33. "When we pray, we relax, reflect, and renew our commitments to God. The peace that comes from consulting with God and receiving His divine wisdom is a powerful hug." – David DeNotaris
34. "Prayer is also an act of obedience. We are exhorted to pray for others and to pray without ceasing." – Robin Jones Gunn
35. "Prayer is not asking. It is a longing of the soul. It is daily admission of one's weakness. It is better in prayer to have a heart without words than words without a heart." – Gandhi
36. "When I don't really know what to pray or how to pray, I take God's words and make them my prayers."  – Dannah Gresh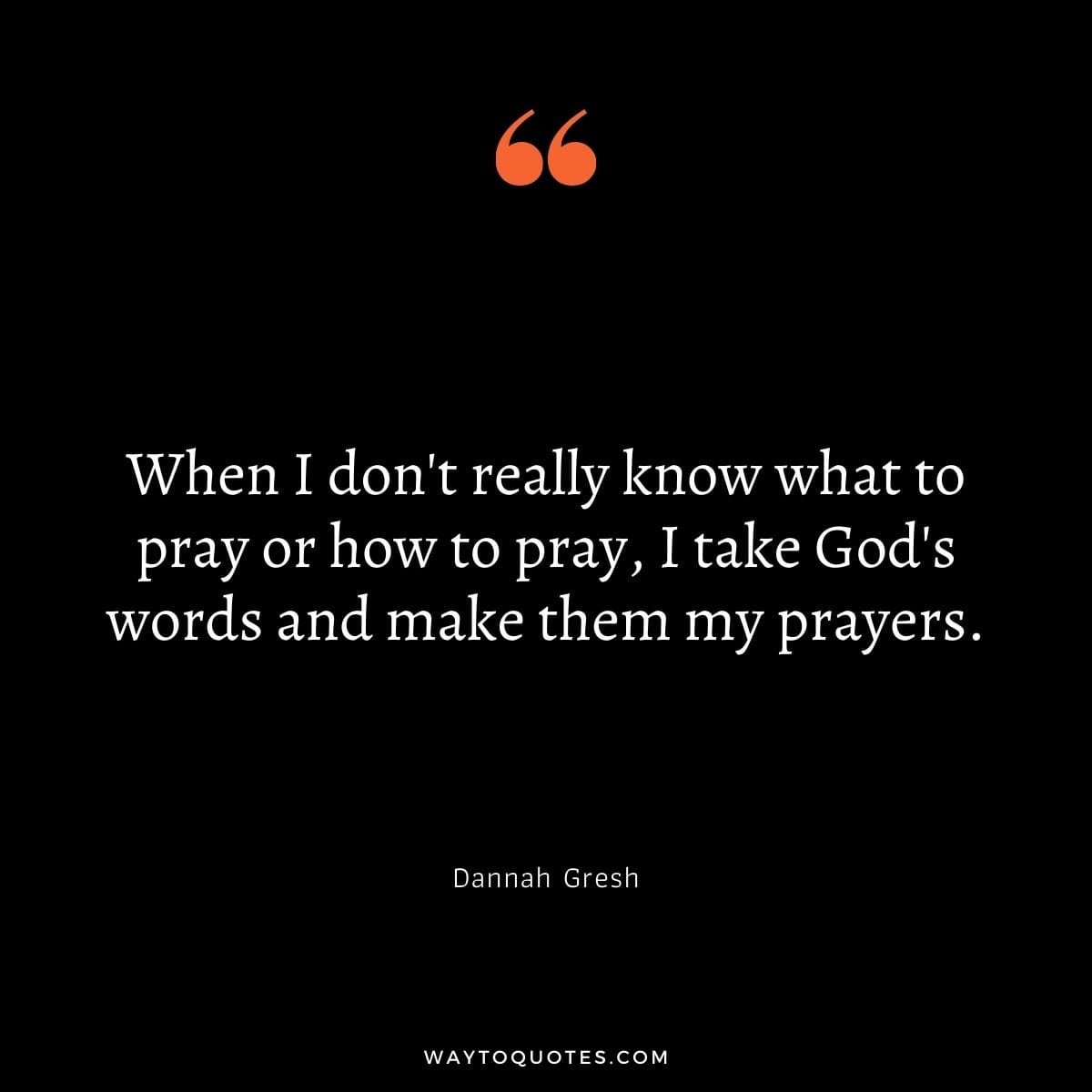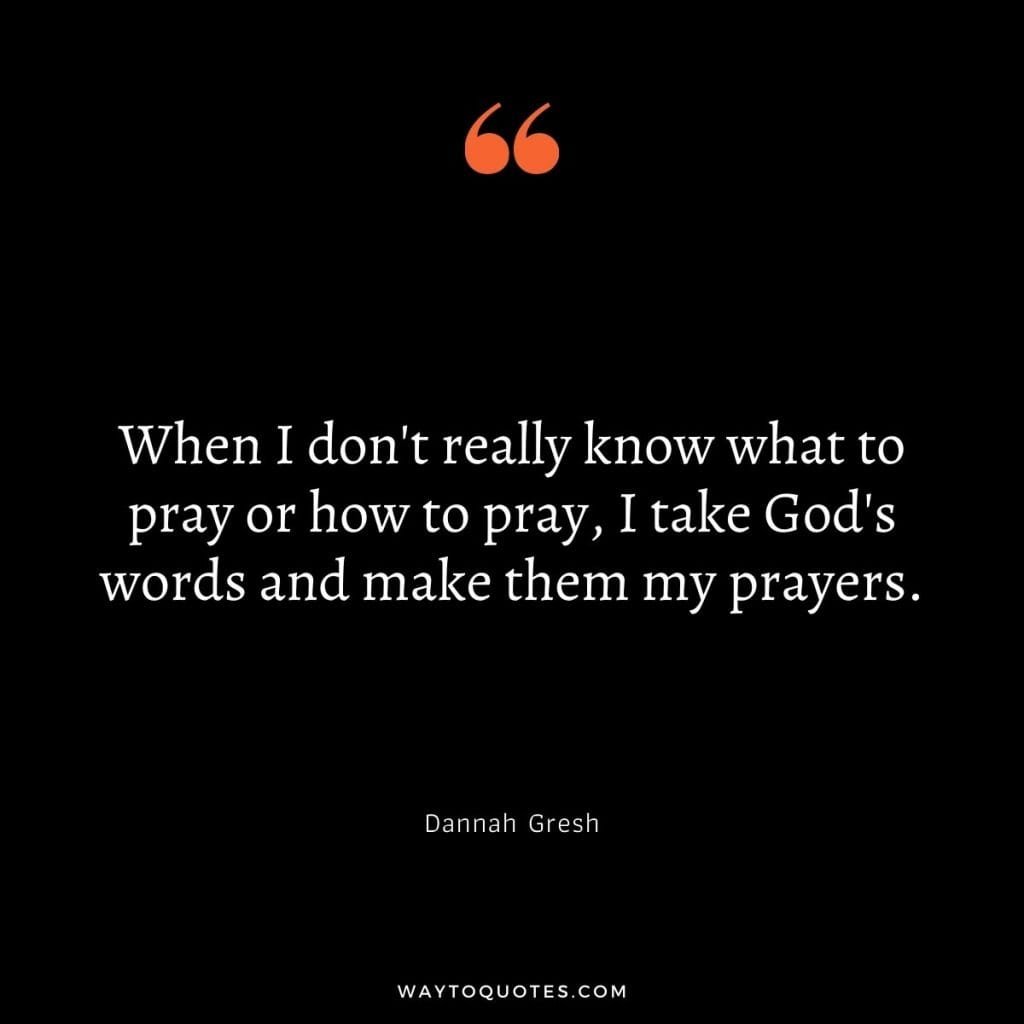 37. "Although God's grace, favor, and honor are freely given, you can pray to receive these benefits in your life." –Jimi Akanbi
38. "We pray the love of God enfolds you during your difficult times and He helps you heal with the passage of time." – Catherine Pulsifer
39. "I pray for all of us, oppressor and friend, that together we may succeed in building a better world through human understanding and love …" – Dalai Lama
40. "Prayer lays hold of God's plan and becomes the link between his will and its accomplishment on earth. Amazing things happen, and we are given the privilege of being the channels of the Holy Spirit's prayer." – Elisabeth Elliot
41. "There are parts of our calling, works of the Holy Spirit, and defeats of the darkness that will come no other way than through furious, fervent, faith-filled, unceasing prayer." – Beth Moore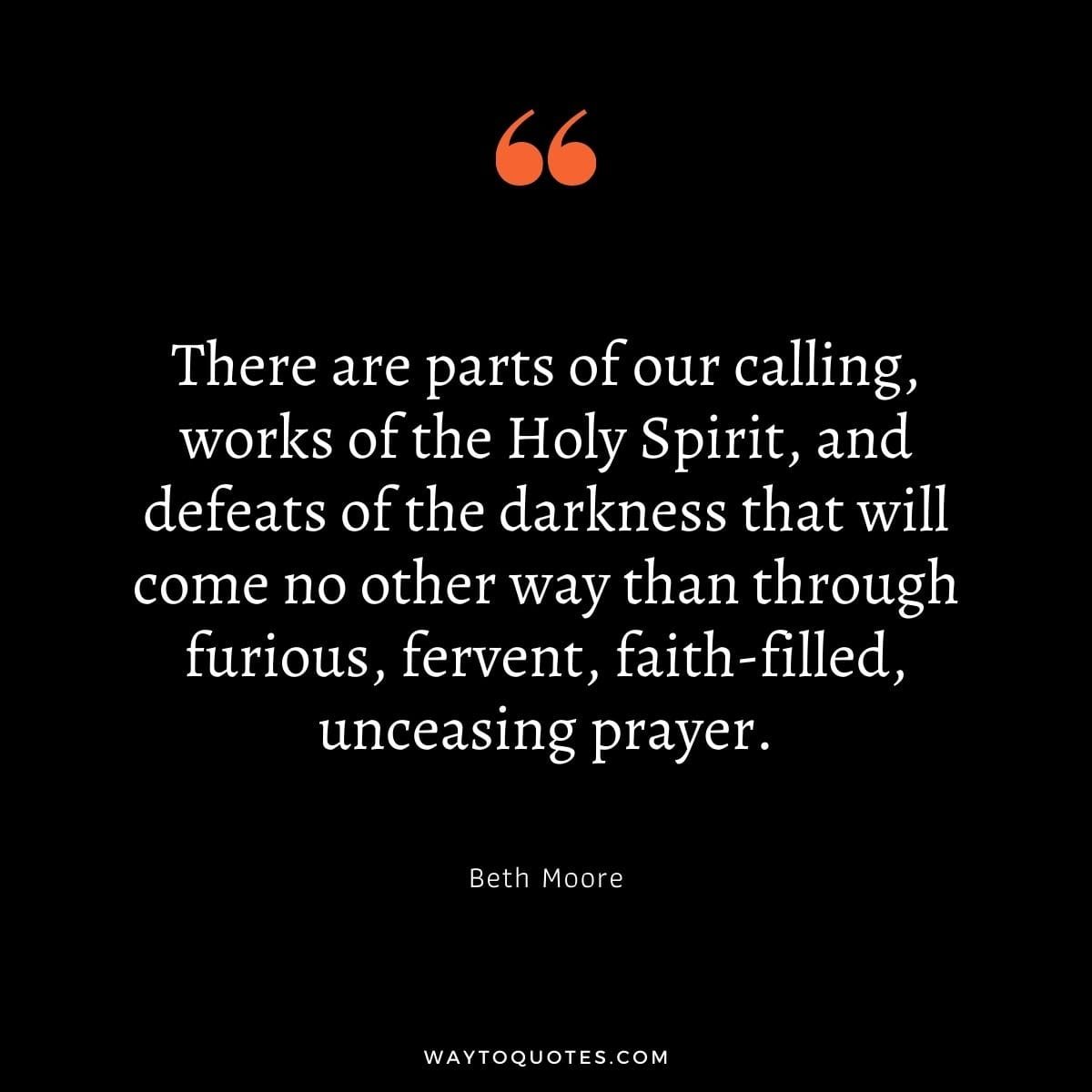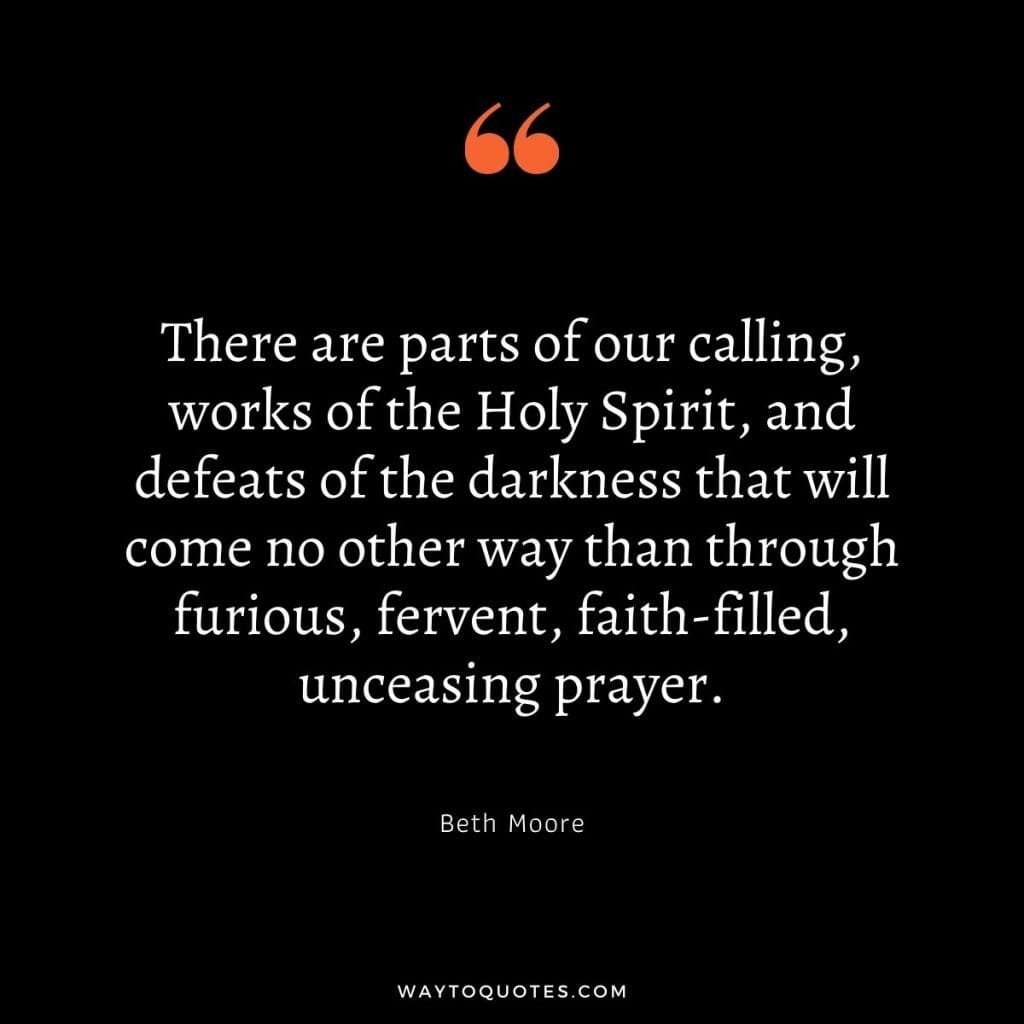 42. "The reality is, my prayers don't change God.  But, I am convinced prayer changes me.  Praying boldly boots me out of that stale place of religious habit into authentic connection with God Himself." – Lysa TerKeurst
43. "Is prayer your steering wheel or your spare tire?" – Corrie ten Boom
44. "If your day is hemmed in with prayer, it is less likely to come unraveled." – Cynthia Lewis
45. "We are to pray in times of adversity, lest we become faithless and unbelieving. We are to pray in times of prosperity, lest we become boastful and proud. We are to pray in times of danger, lest we become fearful and doubting. We are to pray in times of security, lest we become self-sufficient." – Billy Graham
46. "To be a Christian without prayer is no more possible than to be alive without breathing." – Martin Luther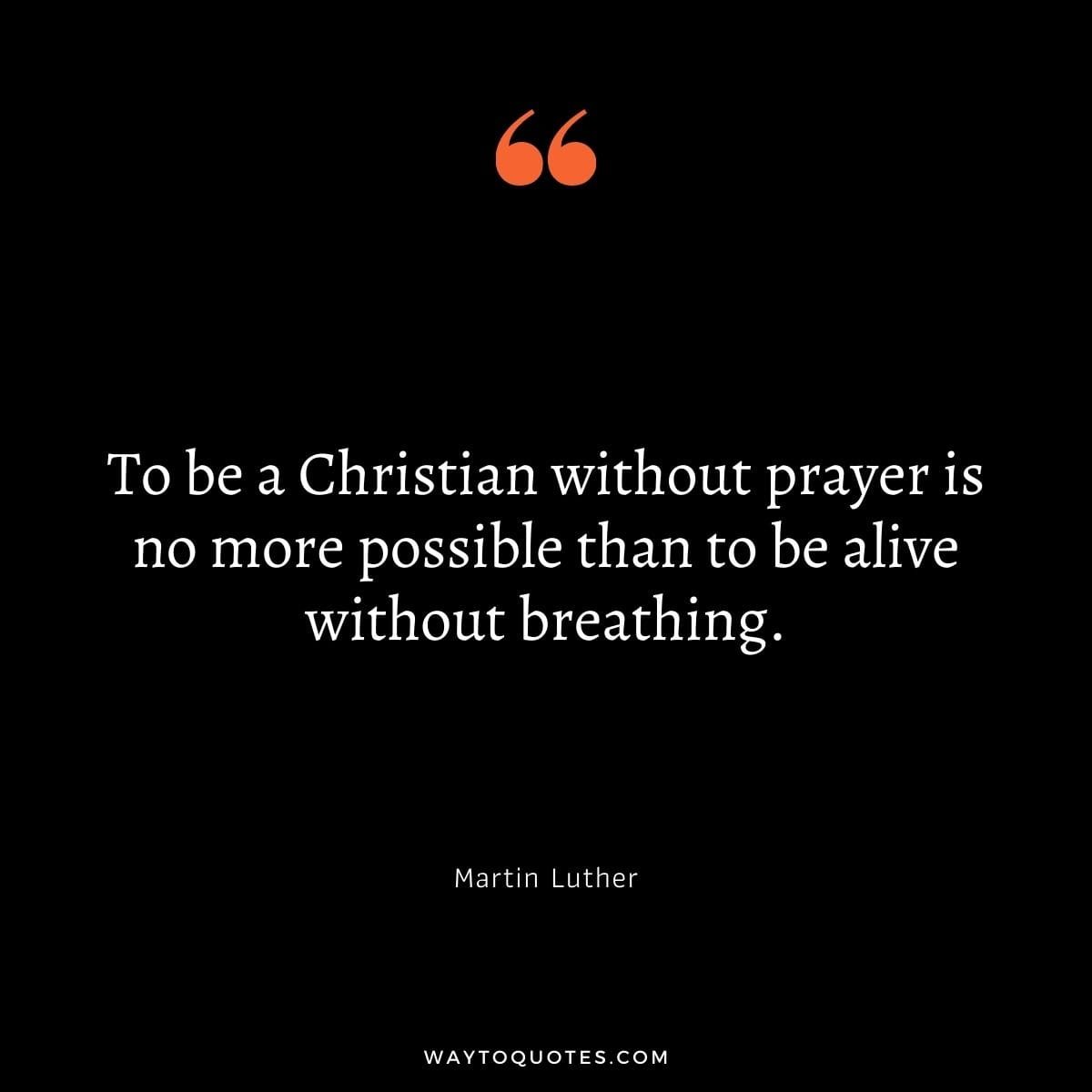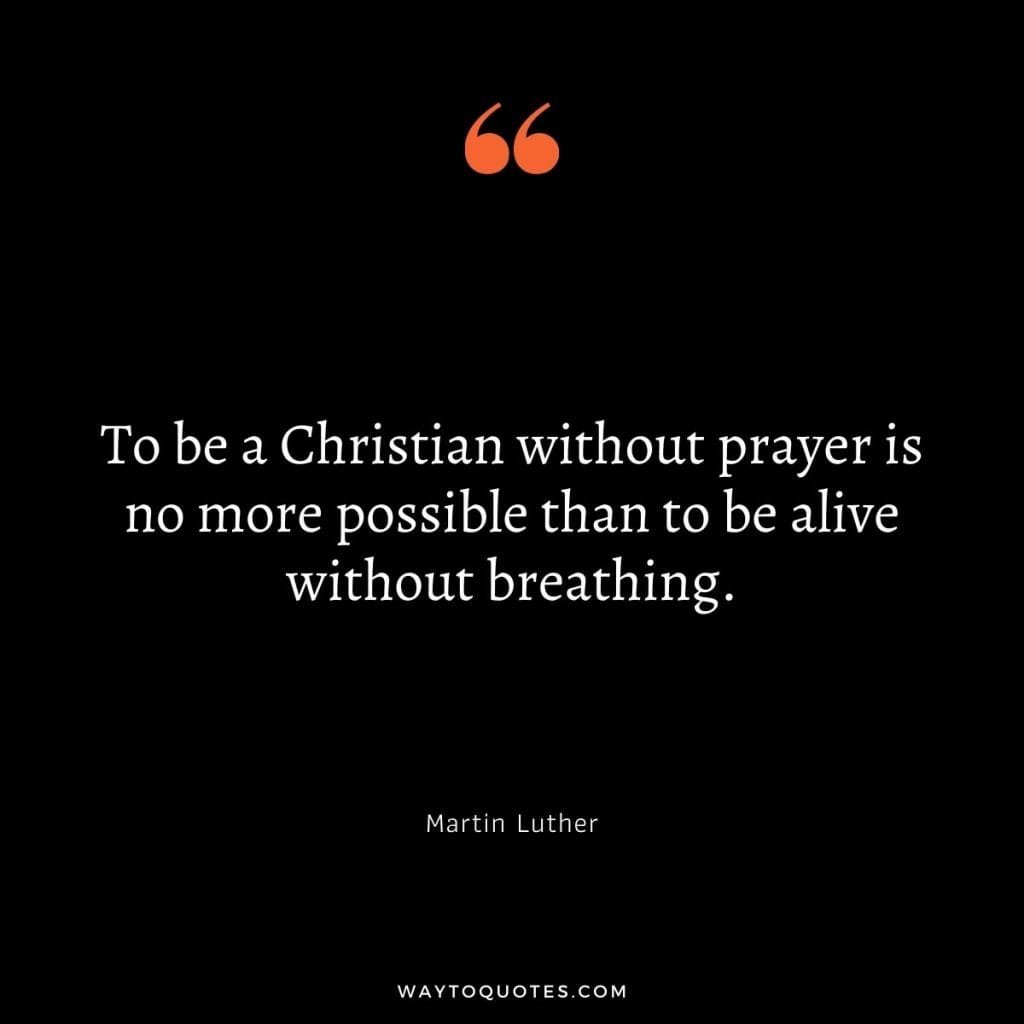 47. "True prayer is neither a mere mental exercise nor a vocal performance. It is far deeper than that – it is spiritual transaction with the Creator of Heaven and Earth." – Charles Spurgeon
48. "If you believe in prayer at all, expect God to hear you. If you do not expect, you will not have. God will not hear you unless you believe He will hear you; but if you believe He will, He will be as good as your faith." – Charles Spurgeon
49. "Let no one profess to trust in God, and yet lay up for future wants, otherwise the Lord will first send him to the hoard he has amassed, before He can answer the prayer for more."  – George Muller
50. "I know that the Lord is always on the side of the right; but it is my constant anxiety and prayer that I and this nation may be on the Lord's side." – Abraham Lincoln
51. "Prayer is simply talking to God like a friend and should be the easiest thing we do each day." – Joyce Meyer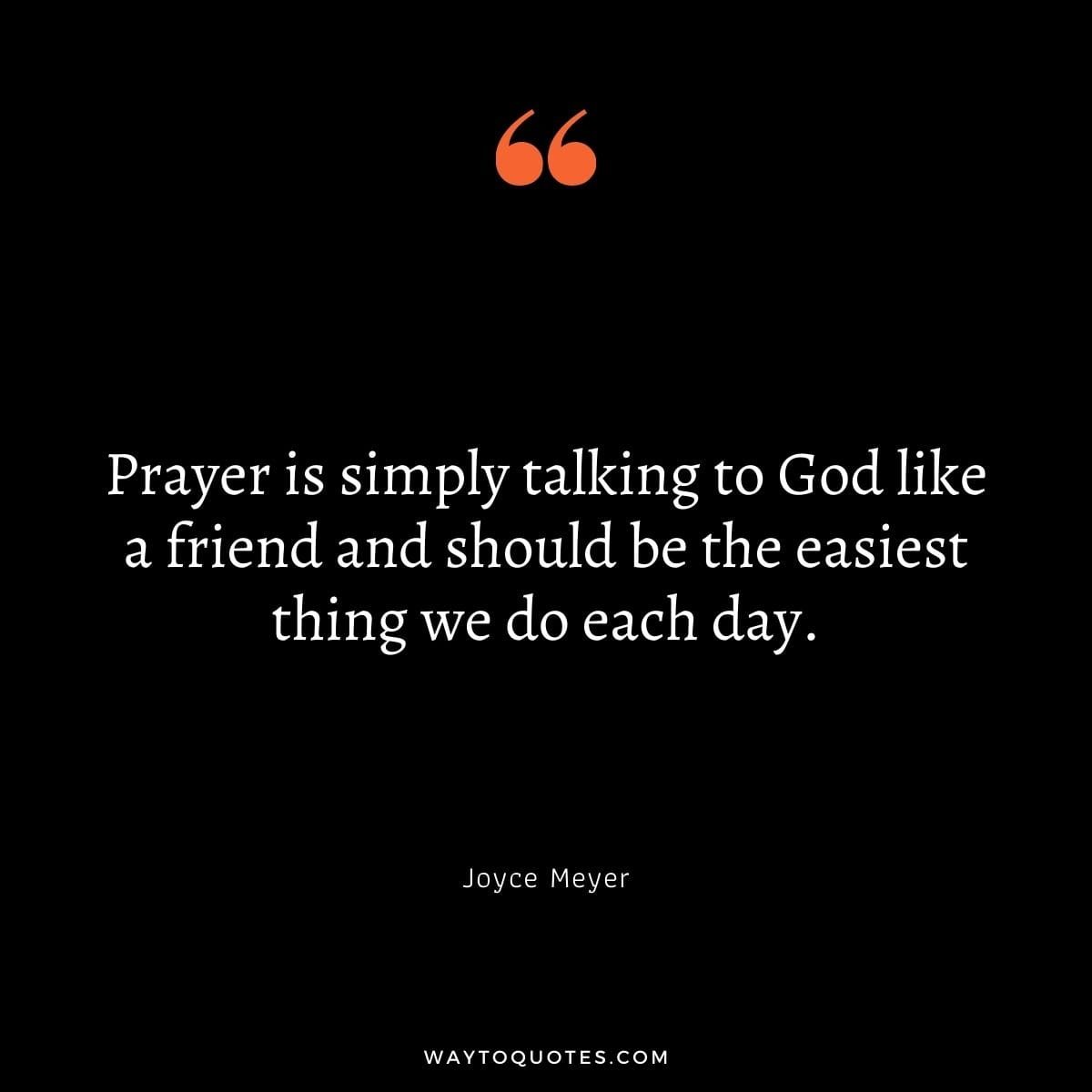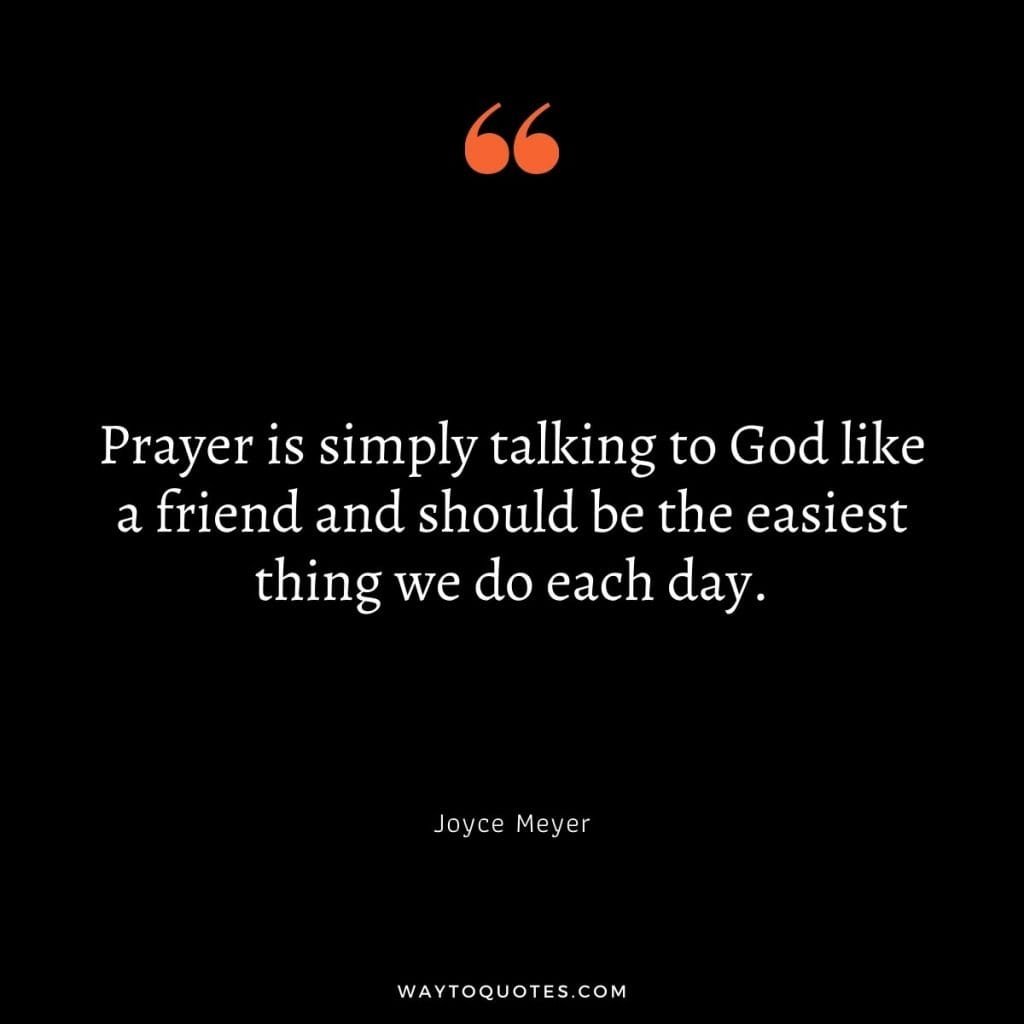 52. "I firmly believe God continues to answer the prayers of His people even after He has taken them to heaven. Never forget that God isn't bound by time the way we are. We see only the present moment; God sees everything. We see only part of what He is doing; He sees it all." – Billy Graham
53. "Prayer does not change God, but it changes him who prays." – Kierkegaard
54. "Prayer is not only asking, but an attitude of mind which produces the atmosphere in which asking is perfectly natural." – Oswald Chambers
55. "In the morning, prayer is the key that opens to us the treasures of God's mercies and blessings; in the evening, it is the key that shuts us up under his protection and safeguard." – Billy Graham
56. "God is looking for people to use, and if you can get usable, he will wear you out. The most dangerous prayer you can pray is this: 'Use me.'" – Rick Warren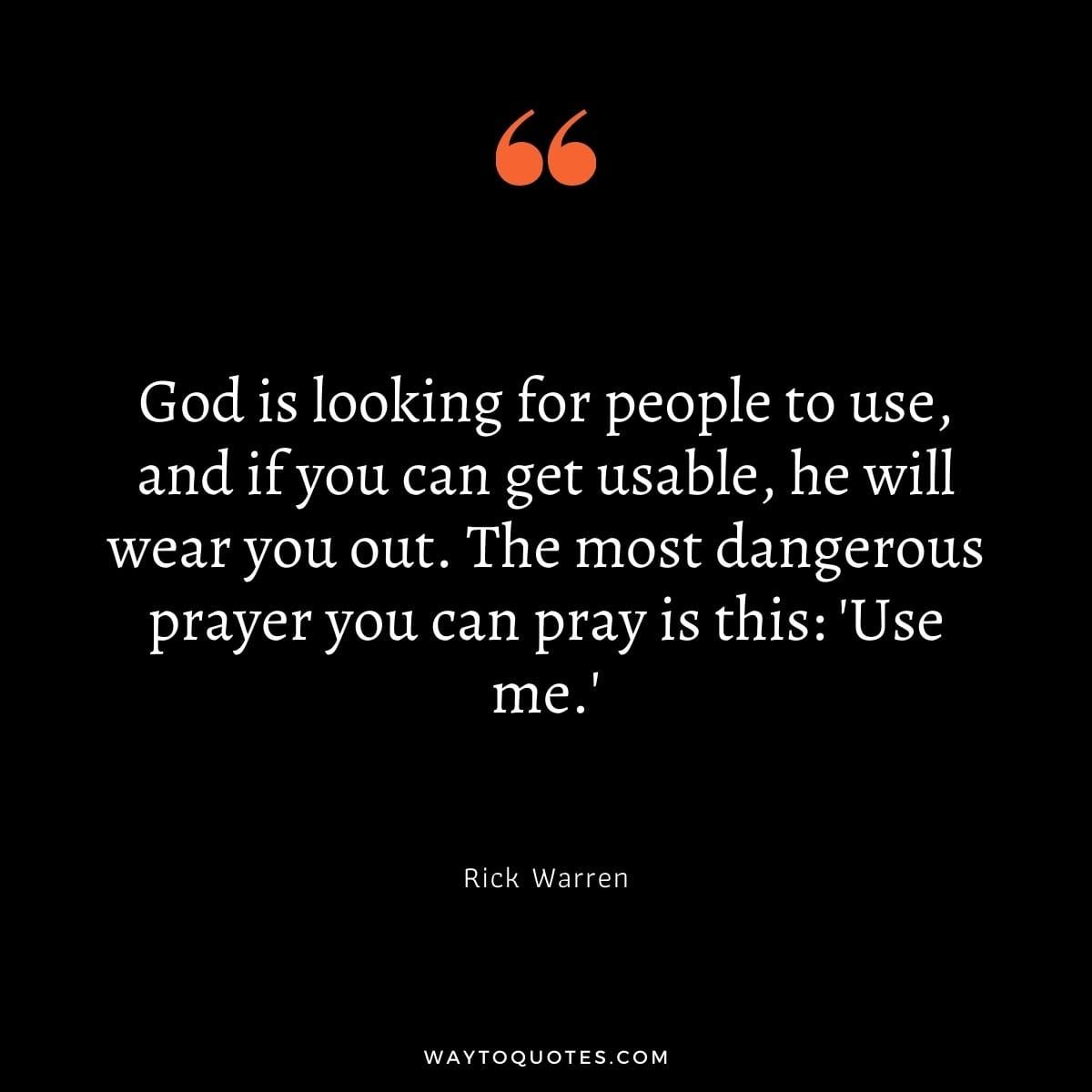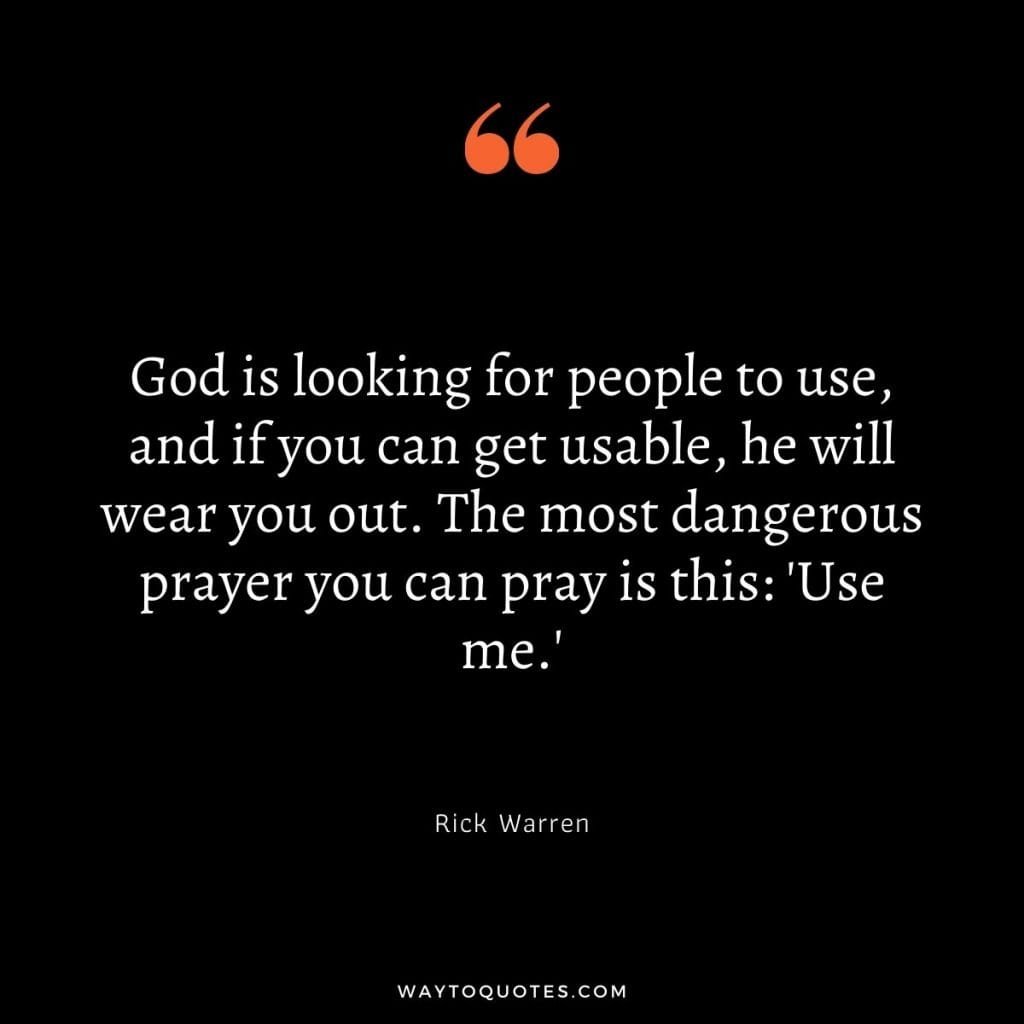 57. "Rather than set aside daily time for prayer, I pray constantly and spontaneously about everything I encounter on a daily basis. When someone shares something with me, I'll often simply say, 'let's pray about this right now.'" – Thomas Kinkade
58. "Any concern too small to be turned into a prayer is too small to be made into a burden." – Corrie Ten Boom
59. "If we would turn the time we spent discussing the other's life into prayer time instead, no telling what would happen to the glory of God." – Beth Moore
60. "Prayer is not asking. Prayer is putting oneself in the hands of God, at His disposition, and listening to His voice in the depth of our hearts." – Mother Teresa
61. "I have been driven many times upon my knees by the overwhelming conviction that I had no where else to go. My own wisdom and that of all about me seemed insufficient for that day." – Abraham Lincoln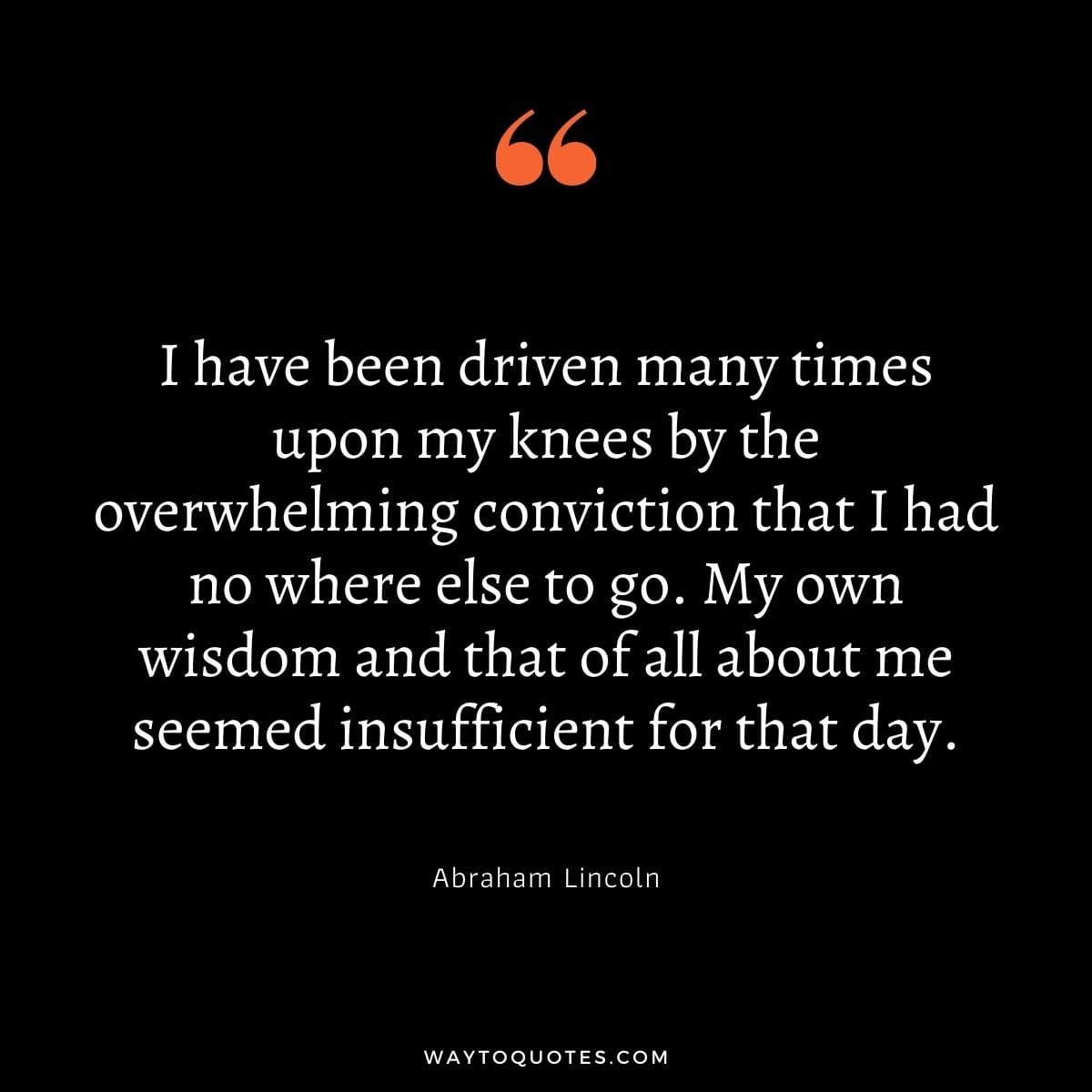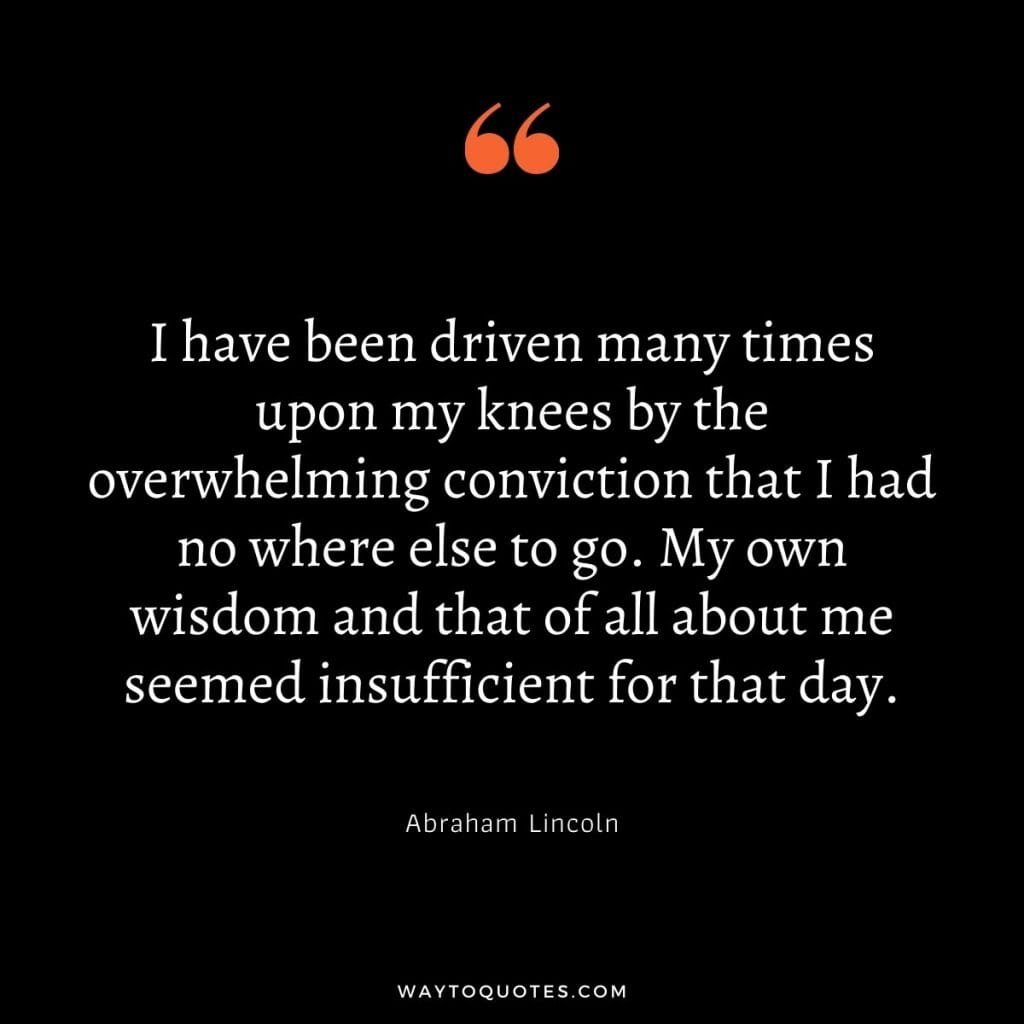 62. "The prayer offered to God in the morning during your quiet time is the key that unlocks the door of the day. Any athlete knows that it is the start that ensures a good finish." – Adrian Rogers
63. "God shapes the world by prayer. The more praying there is in the world the better the world will be, the mightier the forces against evil." – Mother Teresa
64. "God speaks in the silence of the heart. Listening is the beginning of prayer." – Mother Teresa
65. "To get nations back on their feet, we must first get down on our knees." – Billy Graham
66. "It is not well for a man to pray cream and live skim milk." – Henry Ward Beecher
67. "Prayer makes a godly man, and puts within him the mind of Christ, the mind of humility, of self-surrender, of service, of pity, and of prayer. If we really pray, we will become more like God, or else we will quit praying." – E.M. Bounds
68. "Prayer should not be regarded as a duty which must be performed, but rather as a privilege to be enjoyed, a rare delight that is always revealing some new beauty." – E.M. Bounds
69. "You cannot pray for someone and hate them at the same time." – Billy Graham
Prayers Quotes for Strength
70. "When evil darkens our world, give us light. When despair numbs our souls, give us hope. When we stumble and fall, lift us up. When doubts assail us, give us faith. When nothing seems sure, give us trust. When ideals fade, give us vision. When we lose our way, be our guide! That we may find serenity in Your presence, and purpose in doing Your will." -John D. Rayner
71. "Now may our Lord Jesus Christ himself and God our Father, who loved us and through grace gave us eternal comfort and good hope, comfort your hearts and strengthen them in every good work and word." -Paul's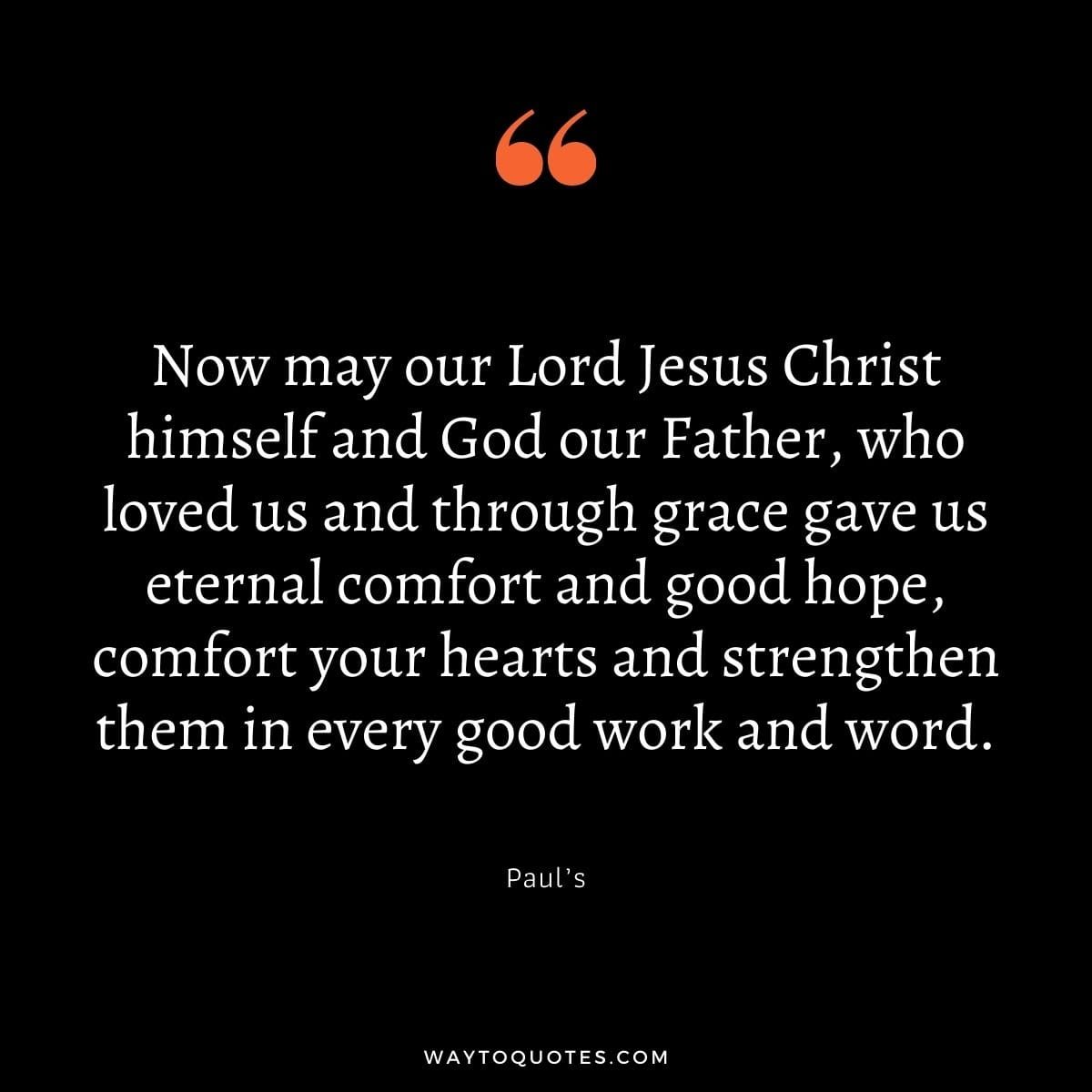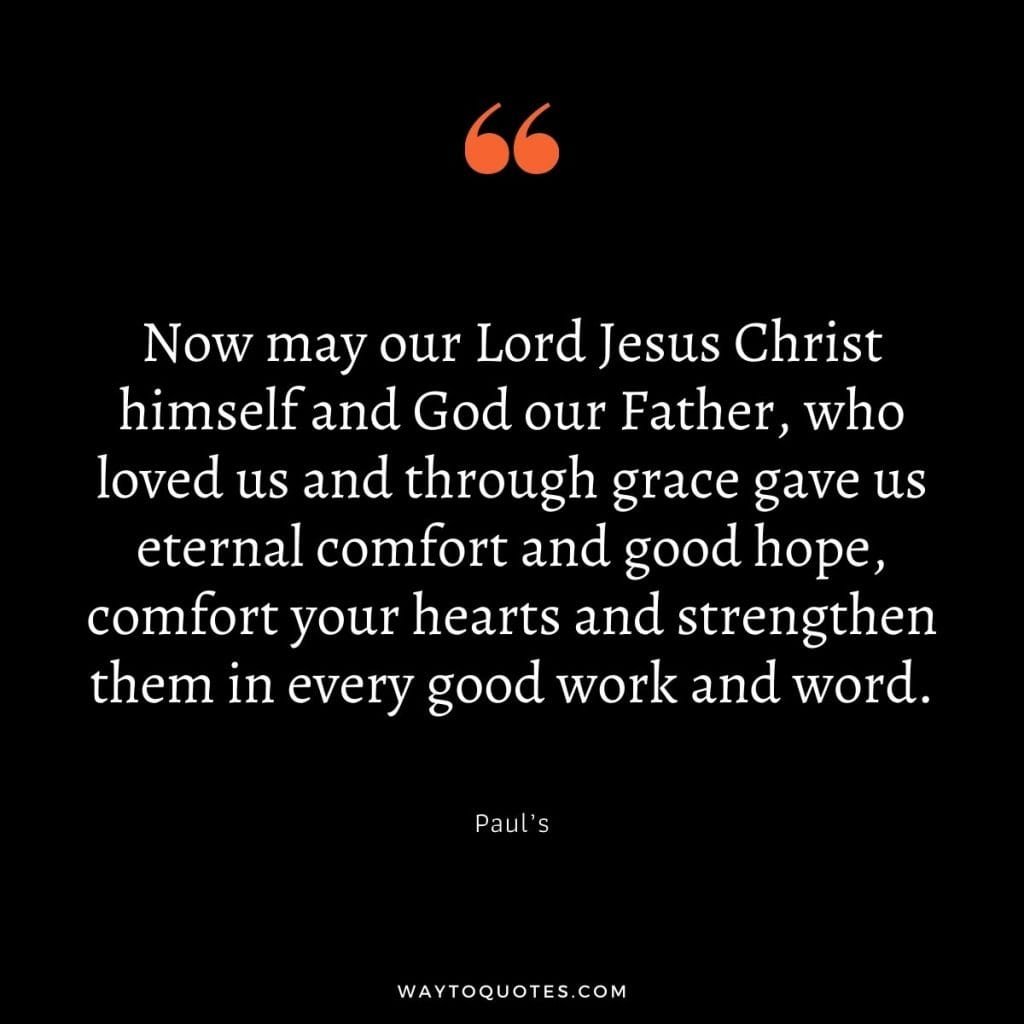 72. "God, grant me the serenity to accept the things I cannot change, the courage to change the things that I can, and the wisdom to know the difference." – Reinhold Niebuhr
73. "God, you are my help and comfort; you shelter and surround me in love so tender that I may know your presence with me, now and always."
74. "God, you are our hiding place and our refuge in the time of distress. We turn to you now, seeking comfort from the wounds of the world and power to face all our afflictions. Be present in our struggle, and help us to rest in your eternal promises."
75. "Dear God, please give me strength when I am weak, love when I feel forsaken, courage when I am afraid, wisdom when I feel foolish, comfort when I am alone, hope when I feel rejected, and peace when I am in turmoil."
76. "O God my refuge and strength: in this place of unrelenting light and noise, enfold me in your holy darkness and silence, that I may rest secure under the shadow of your wings. Amen." -Episcopal prayer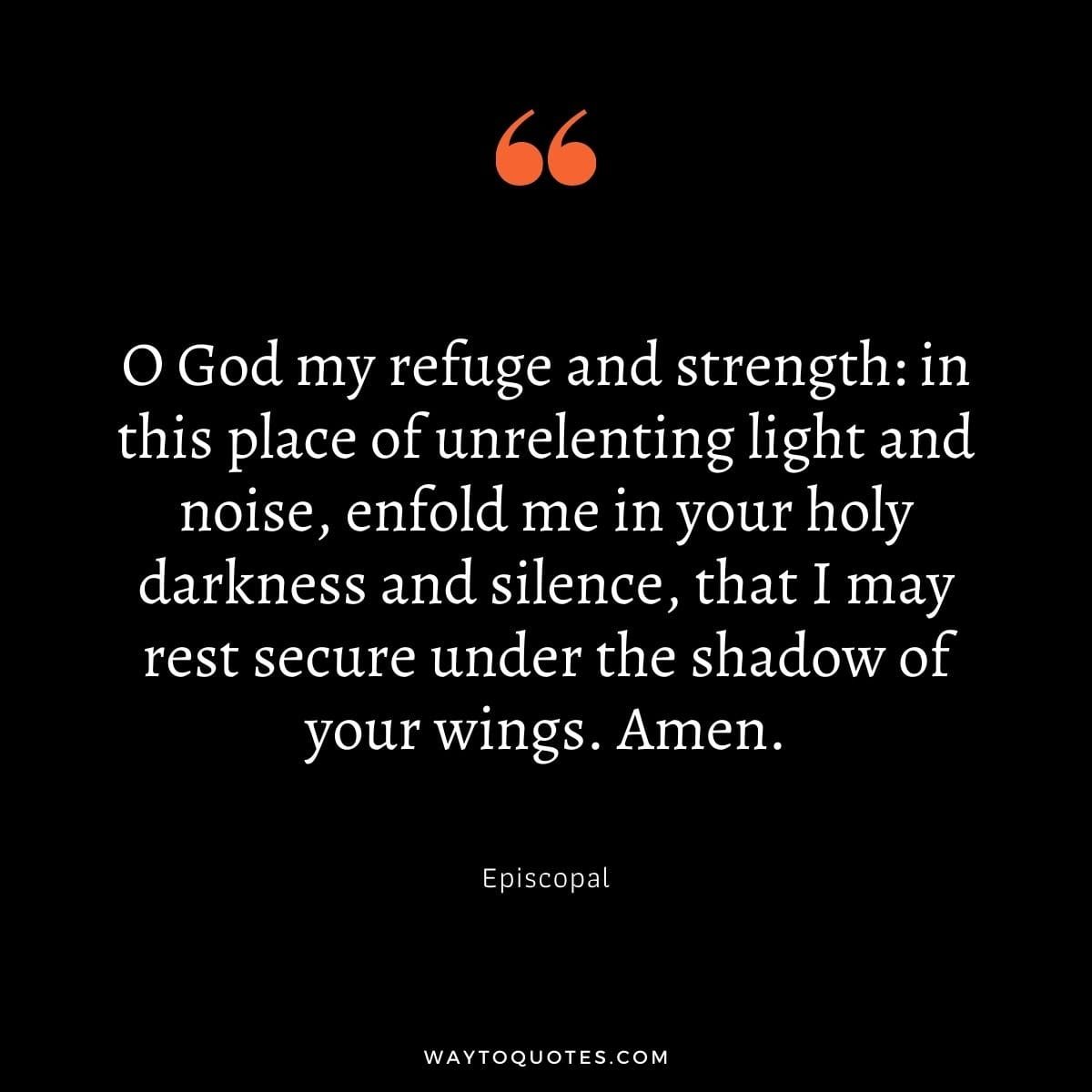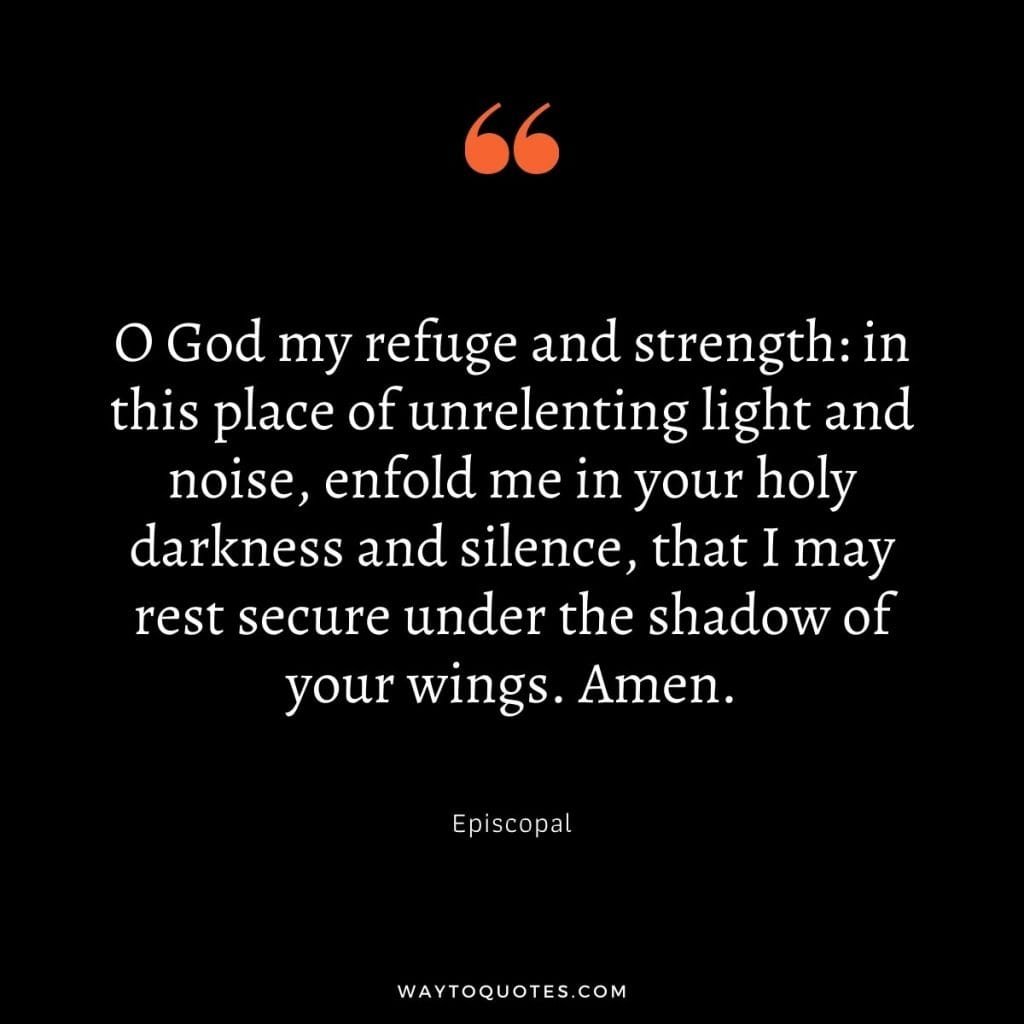 77. "Forgive me, O my God, and graciously protect me this night. Blessed Virgin Mary, my dear heavenly mother, take me under your protection. St. Joseph, my dear guardian angel, and all you saints of God, pray for me. Sweet Jesus, have pity on all poor sinners, and save them from hell." -Catholic prayer
78. "Lord Christ, you came into the world as one of us, and suffered as we do. As I go through the trials of life, help me to realize that you are with me at all times and in all things; that I have no secrets from you; and that your loving grace enfolds me for eternity. In the security of your embrace I pray." Amen. -Episcopal prayer
79. "Inspired with this confidence, we turn to thee, O Virgin of virgins, our Mother. To thee we come, before thee we stand, sinful and sorrowful. O Mother of the Word Incarnate, do not despise our petitions, but in thy mercy hear and answer us." Amen. -Catholic prayer
80. "Soul of Christ, make me holy. Body of Christ, save me. Blood of Christ, fill me with love. Water from Christ's side, wash me. Passion of Christ, strengthen me. Good Jesus, hear me. Within your wounds, hide me. Never let me be parted from you." Amen. -Catholic prayer
81. "Lord, our God, we are in the shadow of your wings. Protect us and bear us up. You will care for us as if we were little children, even to our old age. When you are our strength, we are strong; but when we are our own strength, we are weak. We now return to you, O Lord, that we may never turn away again." -St. Augustine of Hippo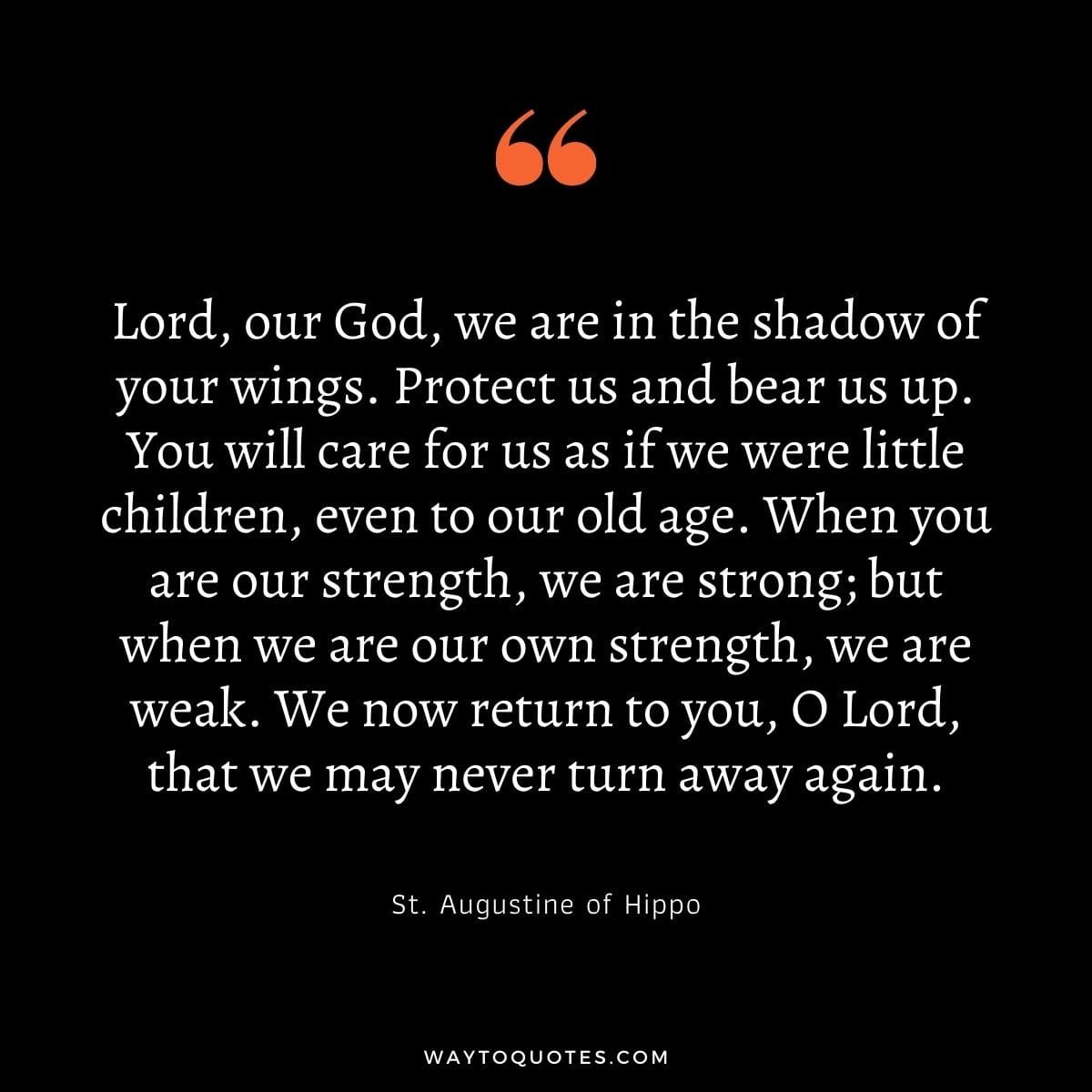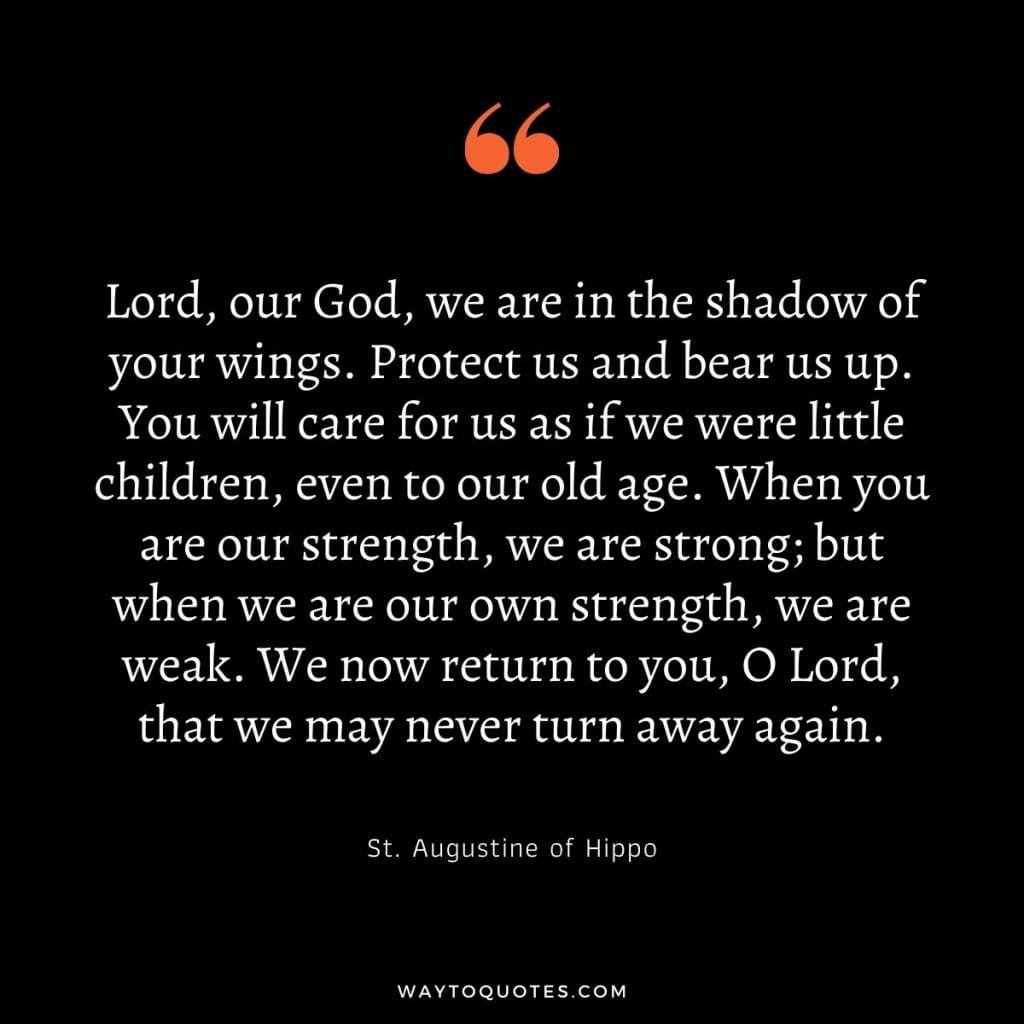 82. "More than ever I find myself in the hands of God.This is what I have wanted all my life from my youth. But now there is a difference; the initiative is entirely with God. It is indeed a profound spiritual experience to know and feel myself so totally in God's hands." – Pedro Arrupe
83. "Holy Spirit, drive away from me all forms of sickness and disease. restore strength to my body and joy to my spirit, so that in my renewed health, I may bless and serve you, now and forevermore."
84. "Dear God, I am sick and tired of being sick and tired. I reach forward today, touch the hem of Your garment, and receive my healing. Yes, I want to get well. Give me the faith to walk in freedom and victory." In Jesus' Name, Amen. – Sharon Jaynes
85. "I pray that, according to the riches of his glory, he may grant that you may be strengthened in your inner being with power through his Spirit, and that Christ may dwell in your hearts through faith, as you are being rooted and grounded in love." – Paul's letter to the Ephesians
86. "Blessed Jesus, in the comfort of your love, I lay before you the memories that haunt me, the anxieties that perplex me, the despair that frightens me, and my frustration at my inability to think clearly. Help me to discover your forgiveness in my memories and know your peace in my distress. Touch me, O Lord, and fill me with your light and your hope."
Conclusion
When you see happiness and peace around you, pray in gratitude, when you see darkness and sorrow around you, pray in hope. Never shy away from the supreme power that you believe in. There need to be no boundaries between us and our faith. Tell it whatever you feel like, ask for whatever you desire, just with faith.
Also read:
Follow Me on: